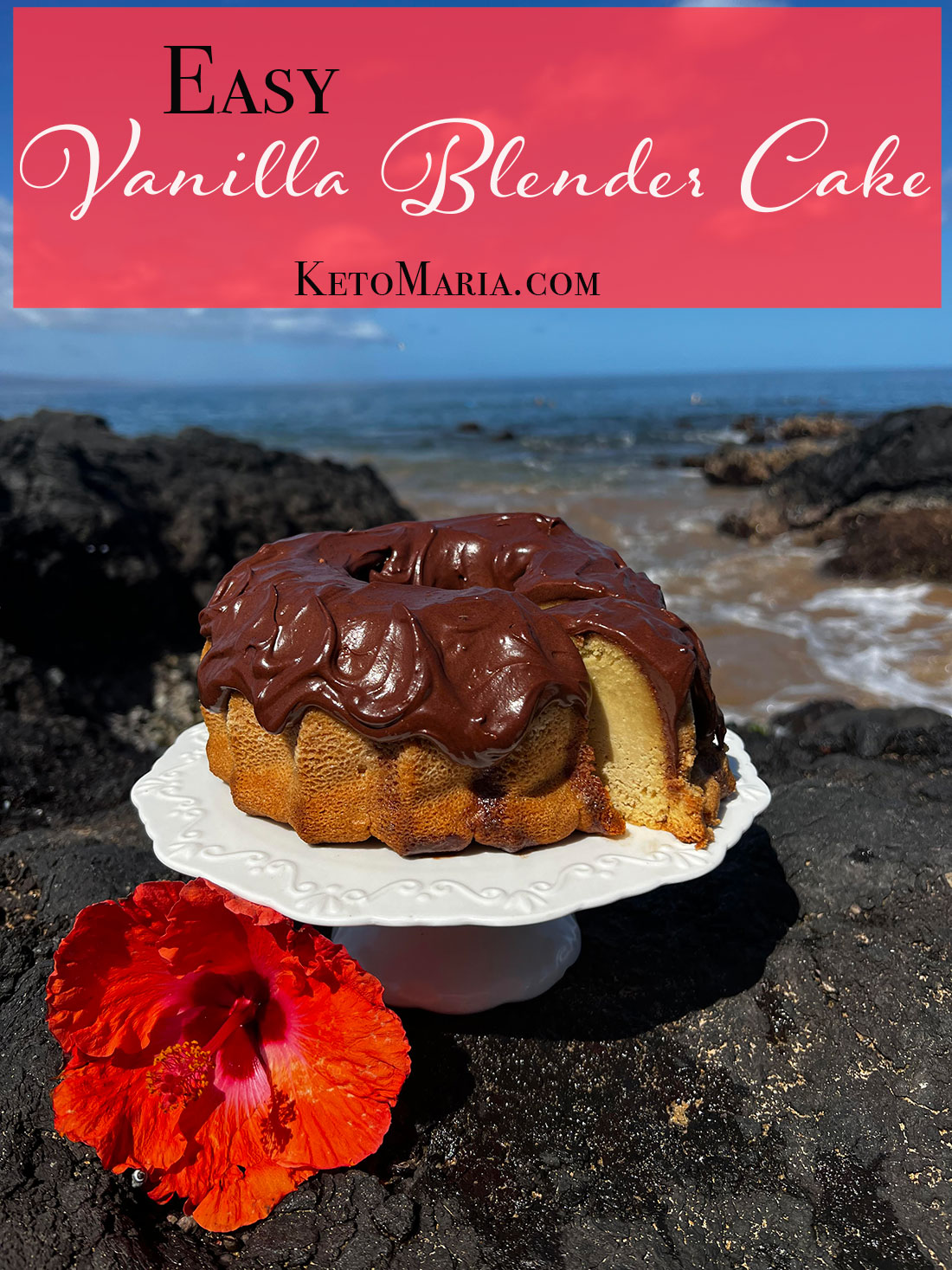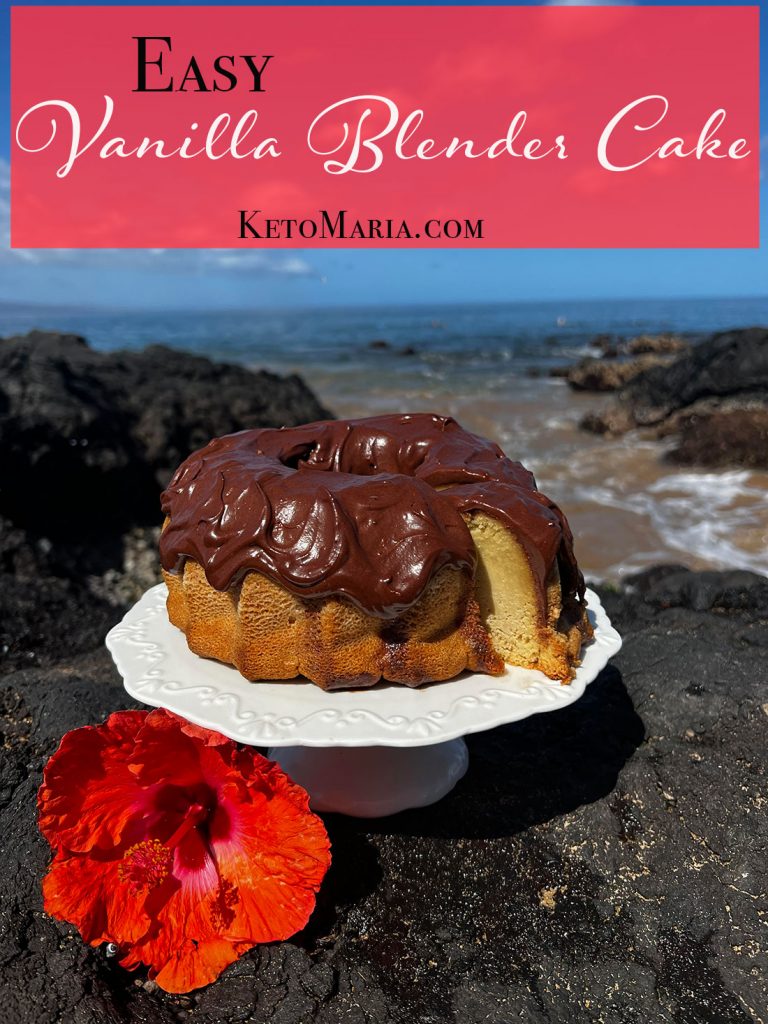 It is Halle Berry's birthday on August 14th! My recipe for Easy Blender Cake is in honor of my dear friend!
Everyone loves my Easy Chocolate Blender Cake so I thought it was time to make an Easy Vanilla Blender Cake recipe for all of you! If you make this recipe, make sure to tag Halle as well as myself and wish her a Happy Birthday!
HOW TO MAKE EASY VANILLA COLLAGEN BLENDER CAKE
I added Further Food vanilla collagen to my Easy Vanilla Blender Cake for an extra health boost! For the frosting, I also used Further Food Chocolate collagen!
1/3 of the protein in your body is collagen: skin, hair, nails, joints, gut, bones, ligaments.
Collagen doesn't support muscle but it does support other parts of a healthy body. Especially our gut!

HEALTH BENEFITS OF COLLAGEN:
Can help with skin elasticity and aging. This means when losing a lot of weight it can help the skin shrink better, reduce wrinkles and cellulite
It can help strengthen hair and reduce hair loss
Improves joint health
Builds bone strength
Contains 18 amino acids that help muscle and ligament repair and recovery
Collagen contains glycine that helps with immune system health and helps with digestion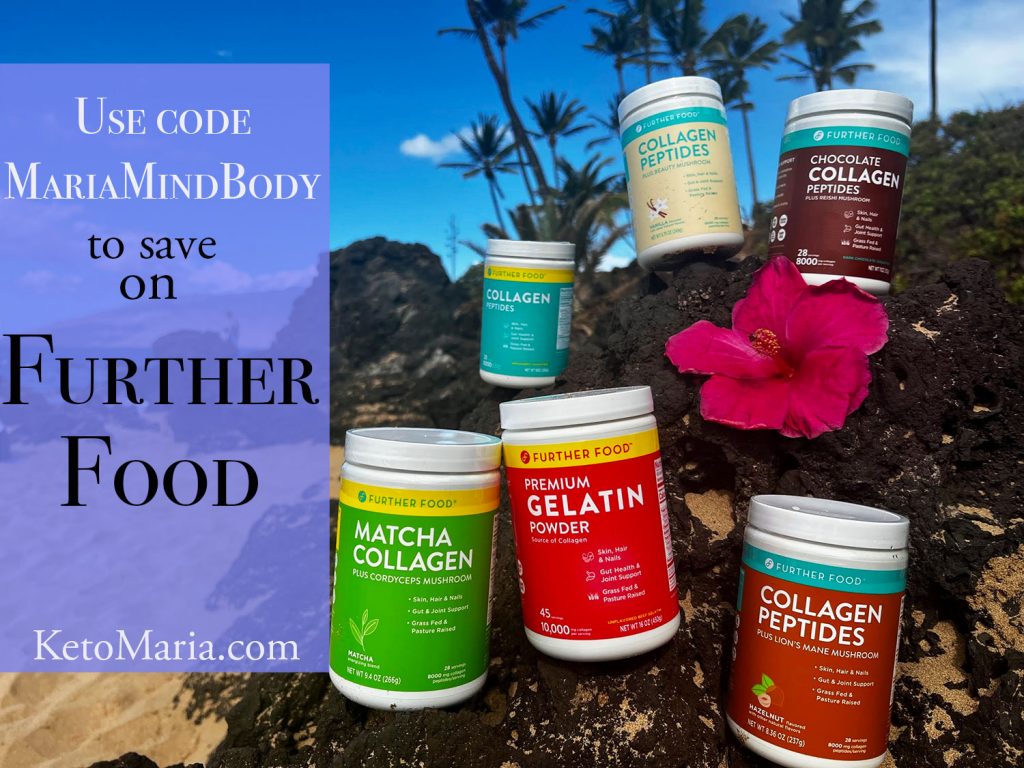 Easy Vanilla Blender Cake
EASY VANILLA BLENDER CAKE:
1½ cups Swerve confectioners (or equivalent natural sweetener)
½ cup butter, melted (or butter-flavored coconut oil if dairy free)
4 large eggs
1 teaspoon vanilla extract (or almond)
1¾ cups blanched almond flour
½ cup coconut flour
1 tsp baking powder
1 tsp baking soda
½ tsp Redmond Real Salt
¾ cup very hot water
EASY CHOCOLATE GLAZE OPTION 1:
¾ cup powdered Swerve or allulose (or 1 cup if using unsweetened cocoa powder)
4 tablespoons Further Food Chocolate Collagen (or unsweetened cocoa powder)
4 tablespoons heavy cream (or coconut cream if dairy free)
1 teaspoon vanilla extract
⅛ teaspoon Redmond Real salt
EASY CHOCOLATE FROSTING OPTION 2:
¾ cup powdered Swerve or allulose (or 1 cup if using unsweetened cocoa powder)
½ cup Further Food chocolate collagen (or unsweetened cocoa powder)
½ cup butter, softened (or butter flavored coconut oil if dairy free)
2 tablespoons unsweetened almond milk (or heavy cream)
1 teaspoon vanilla extract
⅛ teaspoon Redmond Real salt
Preheat the oven to 350F and grease a 9 inch bundt pan really well with butter.
Put the natural sweetened, butter, eggs and vanilla into a blender and pulse until well-blended and smooth. Add the almond flour, collagen, coconut flour, baking powder, baking soda and salt. Pour the hot water over the top (it will start to bubble as it hits the baking powder and soda) and pulse, scraping down the sides of the blender once or twice, until smooth.
Pour into the prepared pan and bake for 45 minutes, or until cracked on top and springy to the touch. Remove from oven and allow to cool for about 10 minutes before turning out onto a wire rack to cool complete before glazing. TIP: To cool, I suggest placing the bundt pan in an ice bath for 10 minutes. This way, the cake won't break or crack when removing it from the pan.
To make the easy chocolate glaze, place all the ingredients into a medium bowl and stir well to combine. Taste and adjust sweetness to your liking. Drizzle over cooled cake.
If making the Easy Chocolate Frosting, place the sweetener, collagen and softened butter into a large bowl. Use a hand mixer and combine until smooth. Slowly add the unsweetened almond milk to thin the frosting. Add the vanilla and salt. Taste and adjust sweetness to your liking.
Nutritional Information:
Easy Chocolate Glaze Option 1: 276 calories, 20g fat, 18g protein, 8g carbs
Easy Chocolate Frosting Option 2: 343 calories, 26g fat, 21g protein, 8g carbs
Vanilla Cake without Glaze/Frosting: 251 calories, 18g fat, 16g protein, 7g carbs
3.4.3177
"Hi Maria! I am feeling so grateful that I found you and how my life has changed for the better!!

A few weeks ago I sent you a message about how my IBS and fibromyalgia are better but I also wanted to share with you that I feel better now at 51 then ever have before.

I have lost over 34 pounds which I never thought was possible!

So happy I followed your personalized supplement plan and the suggestions you had for me. I went from being a M/L to an xs/xxs!! Thank you!!!!! -Michelle
Most people I consult are doing keto totally wrong. Get fast results with the my Mind-blowing Keto School!