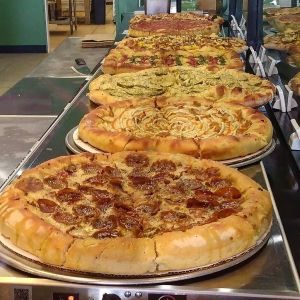 The Vegetarian Resource Group maintains an online Guide to Vegan/Vegetarian Restaurants in the USA and Canada. Here are some recent vegan restaurant additions. The entire guide can be found here: http://www.vrg.org/restaurant/index.php
To support the updating of this online restaurant guide, please donate at: www.vrg.org/donate
Here are some new additions to VRG's guide (Note: Due to the COVID-19 pandemic many are doing take-out and/or delivery now):
Can't Believe It's Vegan, 584 W. Schrock Rd., Westerville, OH 43081
Located in the northeastern suburb of Columbus, Ohio, Can't Believe It's Vegan serves familiar favorites that after one bite will make you say, "Can't believe it's vegan!" Their expansive menu is full of amazing dishes prepared by Chef Clayton himself, the head of the restaurant, who is on a mission to gather more "one-bite believers". Their menu includes starters, sandwiches, salads, bowls, pastas, savory favorites, and even a timeless brunch menu that is available from 10 am – 1 pm when open. Customer favorites include the barbecue ribs (made from jackfruit instead of meat), a spicy Thai kale salad, a vegan BLT, a spicy tofu quinoa bowl, and the crispy noChick sandwich. Head on down to Can't Believe It's Vegan to become a "one-bit believer" today!
Gulino's Pizza and Italian Market, 621 Boll Weevil Cir., Enterprise, AL 36330
Craving some oven-baked Chicago Style pizza? Well, I have the place for you: Gulino's Pizza! Every dish is made entirely from scratch as their pizza is fresh and hand-tossed, toppings are never frozen, and their selection of vegan meatless meats and dairy-free cheeses are made in house. With 4 different preparations, people can choose between a calzone, a thin (or tavern) pizza, pan crusted, or a stuffed deep-dish! There are 13 different types of pizza to choose from, 5 of which are gluten-free. With such a variety of toppings, including pepperoni, garlic, mozzarella, sausage, diced peppers, basil, and even crunchy pickles, Gulino's Pizza is a delicious delight that anyone in or near Enterprise, AL should stop on by!
Korgette, 609 Irvington Ave., Orlando, FL 32803
Inspired by international travels, the foundations of Korgette's menu are their falafels and build-your-own fusion bowls, enhanced with signature sauces that bring cilantro, garlic, lemon, and tahini to the party. With a focus on seasonal ingredients, all dishes are made-from-scratch, so a diner's only worry is how to choose which items to include in the fusion bowl, with options ranging from chipotle and lime corn to sweet chili plantains to house-made hummus. Or you may be tempted to skip straight to their dessert offering: the churro ice cream sandwich, made with house-made churros and coconut ice cream, topped with toasted coconut and chocolate drizzle.
Proletariat, 21 E. 7th St., New York, NY 10003
Enjoy this gastropub with a British dining experience and a unique underground beer and a tattoo flashy atmosphere. Over 20 selected drafts and unusual, limited bottles and cans. Reservations open 21 days in advanced. Example of menu: Bubble & Squeak, potato and polenta cakes, Brussel sprouts, leeks, pickled cabbage, and mustard cauliflower purée. Locate near Swiss Institute Art Museum.
Soy Boys, 471 Church St., Toronto, ON M4Y 2C5 Canada
The menu is concise (burgers, fries, soft serve), but the mission is expansive, because for every burger sold, Soy Boys, in partnership with Eden Reforestation Projects, plants a tree. The burgers are available in single (Soy Boy 4-ounce) and double (Soy Boy 4-ounce times 2), using the Impossible Patty, with their house sauce and the option of cheese. The fries are the nostalgic waffle variety, and of course no fast food run is complete without a dessert of soft-serve.
Squeeze Juice Works, 495 7th Ave. N., St. Petersburg, FL 33701
Fresh juices, holy guacamole, pesto is besto, lil toastie, chana masala, kimchi fried rice, forbidden forest, farro way, strawberry fields salad, toasties, and bagels are on the menu.
The Rogue Panda, 1601 Drexel Ave., Miami Beach, FL 33139
Heard of "Kung Fu Panda"? Well, we introduce to you The Rogue Panda, which isn't your traditional Chinese food spot. Serving unforgettably delicious, crave-worthy, plant-based Chinese food, The Rogue Panda are proving that reducing meat consumption and improving sustainability can be done with zero sacrifice to taste or experience. Their menu only includes 7 items, but don't fret, each one is insanely delicious! You can choose from their slippery dumplings, rogue "egg" rolls, sesame cucumbers, dandan noodles, kung pao brussels, mapo tofu with white rice, or Sichuan green beans. Whatever you choose, just be sure to wave to the insanely cute anime-drawn panda!
Vibez Kitchen, 4505 E. Veterans Memorial Blvd., Killeen, TX 76543
Diners' reviews of Vibez Kitchen clearly demonstrate that the owners are living up to their mission statement of "Giving back to the community in a healthier vegan way." Their storefront may be simple, but their menu inspires many exclamation points, as they bring a Caribbean-American fusion to Texas. Main plates include an Okra & Butter Bean Stew and Stir-Fry Oyster Mushrooms. Or you might want to mix it up and choose from among tacos & wraps, sandwiches, wings & tenders (including the cauliflower wings), and sides. Because who can resist a side of sweet potato fries or jalapeño cheese fries?