I was paging through my notebook the other day, and stopped on a show-stopper miso soup I love. It's something I cook a few times every year. Frankly, I'm surprised it has taken this long to share the recipe, but here we are! The foundation of this soup is the broth. It is a *punch* of flavor built on garlic, ginger, scallions, toasted sesame oil, miso and fermented chile paste. The broth is made creamy with a finishing dollop of good tahini. Building the soup from there, I always add cubes of waxy potatoes and lots of chopped green cabbage. It's all finished off with cubes of tofu and a blitz of anything summery. Cherry tomatoes are cut into crescents, young yellow beans, sweet fresh corn, and slivered basil are all fair game. Those of you with gardens – raid them.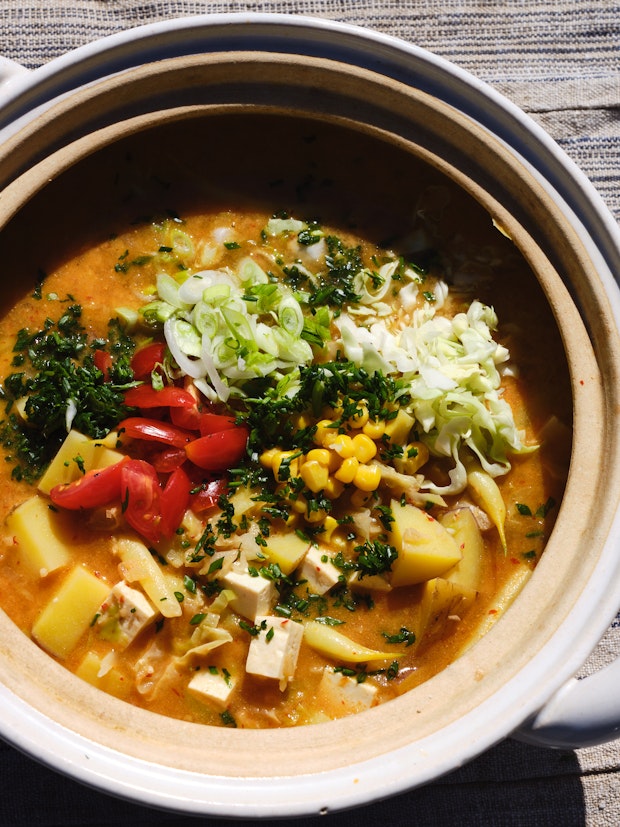 More About the Broth
The broth here is a riff on the Hot Sesame Miso Broth in Naoko Takei Moore and Kyle Connaughton's Donabe book. This broth was "inspired by the Japenese ramen dish tan tan men, which is derived from the Chinese dan dan mein, or dan dan noodles." You see it in the book served hot pot style with chicken meatballs. I jumped off the broth as a starting point and took the whole situation in a veg. direction, introducing the potatoes and cabbage and finishing with all things summery seasonal from there.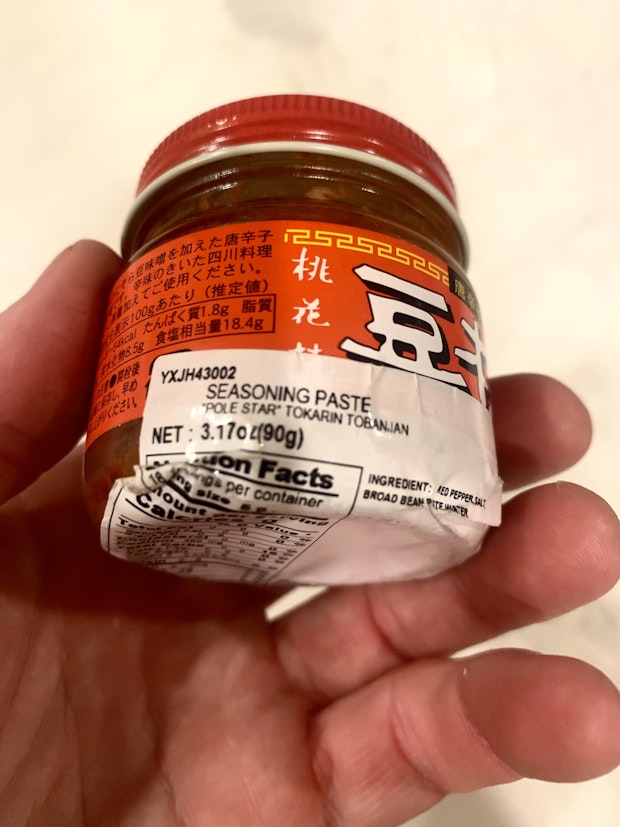 Let's talk Spicy – What is Tobanjan?
Tobanjan is the spicy component here. It's a feisty, salty, fermented bean paste that has become indispensable in my kitchen for its nuanced, layered heat – the love here is deep. I buy 3-4 little jars (above) at a time when I visit Tokyo Central in Orange County, Ca. You can also find it online – this is the brand Naoko stocks at her shop, Toiro Kitchen. Where I spend all my money on donabe – laugh/cry. Swap in another spicy paste or sauce if you don't want to go down the tobanjan rabbit hole – the soup will be different, but still delicious.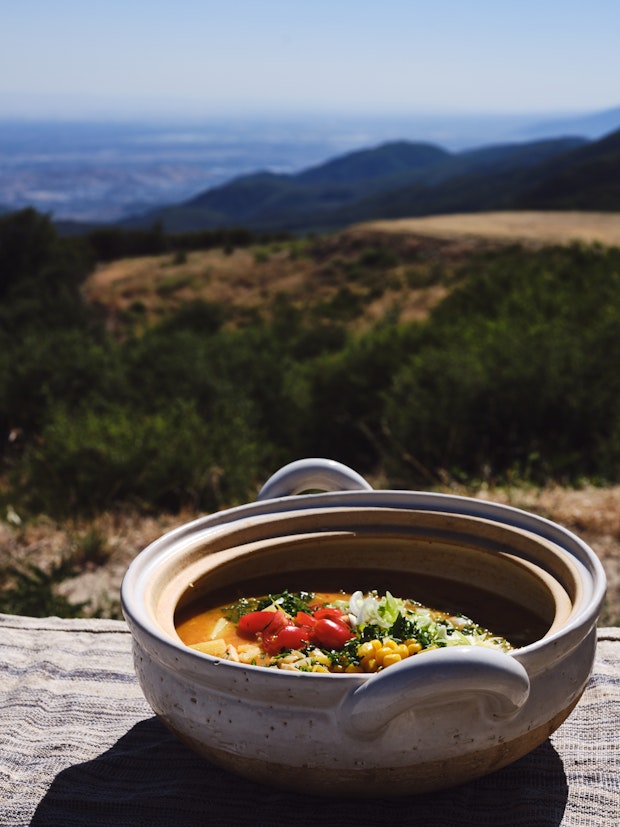 As the seasons progress you can, of course, adapt with other ingredients. That's the great thing here, a mushroom version is great later in the year. You can add some winter squash in with the potatoes, radicchio, etc. And in spring asparagus, fava beans, spring onions, and spring peas make an entirely different version. Have fun with it.
Explore more soup recipes here. The tomato recipes are here, and same goes for the corn recipes.