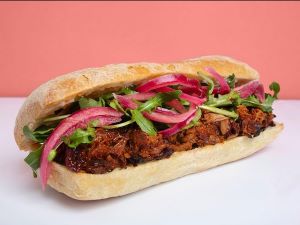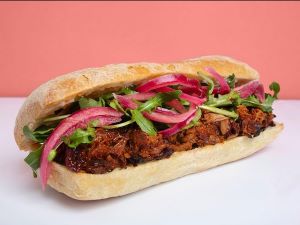 Photo from Maciel's Plant-Based Butcher & Deli
The Vegetarian Resource Group maintains an online Guide to Vegan/Vegetarian Restaurants in the USA and Canada. Here are some recent vegan restaurant additions. The entire guide can be found here: http://www.vrg.org/restaurant/index.php
To support the updating of this online restaurant guide, please donate at: www.vrg.org/donate
Here are some new additions to VRG's guide (Note: Due to the COVID-19 pandemic many are doing take-out and/or delivery now):
Amitabha Vegan, 6824 Fresh Meadow Ln., Fresh Meadows, NY 11365
Amitabha Vegan features Chinese-Style Asian Fusion cuisine! The restaurant is located in the heart of Queens and offers a wide selection of vegan Chinese foods. Generous-sized portions and delicious flavors are offered for reasonable prices. The pepper & salt king mushrooms, general Tso "chicken," and roasted "pork" are widely recommended and just a sliver of the variety they offer. This woman-owned, family-oriented restaurant delivers a unique vegan experience!
G-Monkey, 625 New Park Ave., Ste. G, West Hartford, CT 06110
G-Monkey serves American fast food such as a variety of burgers and bowls. The food presentation is very unique in that its buns have the G-Monkey logo printed onto them. Not only is the presentation very inviting but the ambience of the restaurant is as well. The decor is very lively as there is the use of many green colors to represent veganism and has a slogan on the wall that states, "Our Future is Vegan." G-Monkey is located near the tourist attraction The Mark Twain House and Museum, as well as many hotels for those visiting West Hartford.
Maciel's Plant-Based Butcher Shop, 5933 York Blvd., Los Angeles, CA 90042
Say hello to LA's vegan butcher shop in Highland Park: Maciel's Plant-Based Butcher Shop! You can either dine-in at their wonderful establishment or use their take-out option to feast on their sandwiches, sides (potato salad, coleslaw, spicy cucumber salad), aguas frescas (pineapple ginger, cucumber lime mint, hibiscus), or dessert options (Mexican chocolate mousse). Just interested in their food products? Well, you can also go up to their deli case and purchase their packaged vegan meats, sides, and cheeses all of which are made in house. There are six different vegan meat options: pastrami, bacon, Mexican ribs (GF), turkey, salami (GF), and chorizo (GF). Their 6 sandwiches each showcase a different plant-based meat so you can choose from their breakfast option, The Reuben, The California, The Flores, The Italian, and Sloppy Pepe. Located on the corner of York Boulevard and Aldama Street, this Mexican and Italian deli will for sure charm you with its simple white and orange accents.
Mae Mae Café, 2417 Third Ave., Bronx, NY 10451
Located in the Bruckner building in Mott Haven (South Bronx), this café doubles as a community space and plant store. Sit amidst cozy decor, dominated by lush plants (available to buy) and llama statues, to enjoy mushroom or cabbage tacos, burritos, quesadillas, and sides and appetizers including salads, beans, and tortillas, before moving on to horchata rice pudding or vegan pastries. Committed to serving the Mott Haven community, not just with healthy plant-based meals, but with community gatherings, summer internships for residential high school students, and a CSA from June through November, which brings produce from organic upstate NY Katchkie Farm (which also provides ingredients for the café) to Bronxites.
Seabirds Kitchen, 2138 Hillhurst Ave., Ste. B, Los Angeles, CA 90027
Enjoy Corn Chowder, Kale Caesar Salad, Purple Taquitos, Kimchi Taco, BBQ Burger, Jackfruit Nachos, and much more. They also have separate offerings for children and dessert options include a Cha Cha Float, Whiskey Peach Crumble, Avocado Chocolate Mousse, plus other options.
Tabay's Mindful Kitchen, Capistrano Valley Plaza Shopping Center, 34131 Doheny Park Rd., Dana Point, CA 92624
Tabay's Kitchen is a vegan food truck serving Amoo Joon's crispy chick'n sandwich, MommaJoon's spicy chick'n sandwich, crispy chick'n strips, Tabay's planted based burger, chick'n nuggets, Doheny Dog, Chickpea salad wrap, and a variety of other dishes.
Vegan A.F., 105 Canal St., Brattleboro, VT 05301
Vegan A.F. will welcome you with open arms with its rustic, yet cozy and comfortable, ambiance. Their menu is full of familiar favorites, such as buffalo cauliflower wings, barbacoa tacos, jambalaya, a double stacked burger, unique salads, and an array of finger-licking starters. They are committed to creating a space that is socially responsible through ethical eating. Whether you dine-in at their wonderful covered patio, classy indoor seating, or are in the mood for a seat at their bar, Vegan A.F. is here to bring vegan food to a higher level!
Vegan It IZ Eats, 2nd Street Market, 600 E. Second St., Dayton, OH 45402
Vegan It IZ Eats runs a restaurant stall at the 2nd Street Market, alongside dozens of other local growers, artisans etc. in a historic freight house. Offers a rotating menu of healthy, flavorful breakfast and lunch items, such as jackfruit tacos, wonton pizza bites, salads, and chai French toast, in addition to teas and juices. Run by a black woman vegan holistic nutritionist, who also offers trainings, classes, seminars etc. in cooking and veganism, as well as catering, and is firmly committed to the health of the community, having grown up locally.  Seating is available at the historic, cheerful market, which is often ranked among the top locations to visit in Dayton.