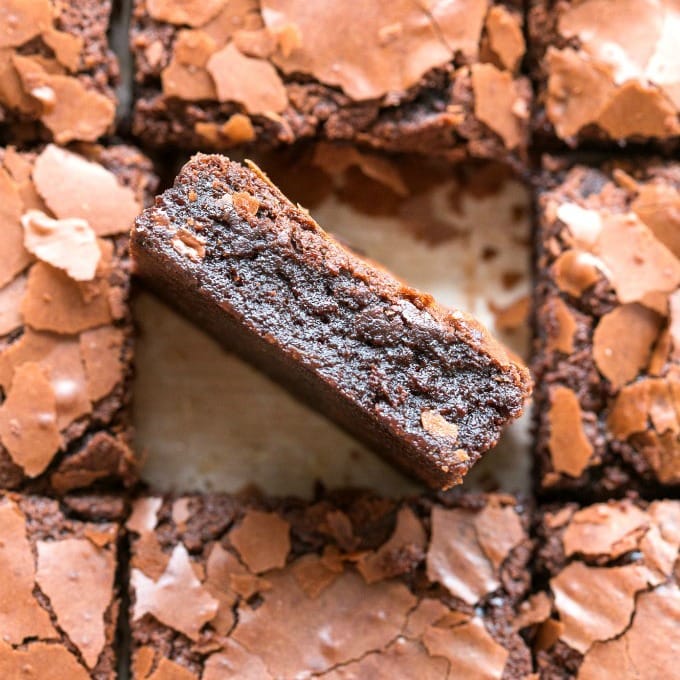 These keto brownies are super fudgy, gooey, and taste like the real thing! Ready in just 20 minutes, you won't believe these are low carb.
The best keto brownies
If you've been around here for some time, you may remember that we've shared some classic keto desserts, including cheesecake, ice cream, and chocolate cake. None of them have been as easy as this.
If you are after the best tasting keto brownies ever, you have come to the right place.
Sure, there are tons of keto brownie recipes out there, but honestly, they don't hold a flame to this one. None of them achieve the texture and flavor of a wheat and sugar-based brownie. 
This one, however, is like the real thing. They take less than 20 minutes to bake and taste absolutely incredible.
Oh, and they have the best texture- gooey and fudgy in the middle and with those gorgeous crinkly tops. 
By the way, if you want to try some other epic keto desserts, try the blondies or chocolate chip cookies. 
Ingredients needed
If you've made any of my keto desserts before, you probably have everything on hand as we speak. If not, there is nothing special needed and you'll find everything at any basic grocery store. Here is what you'll need: 
Butter. Salted or unsalted. I prefer using the salted variety as it negates the need to add any extra salt. 
Chocolate. Any sugar free chocolate works, including chocolate chips or baking chocolate. The latter is a fantastic option as, even though it is extremely bitter, the brownie batter already has added sweeteners to compensate. 
Almond flour. Blanched almond flour is a must. It doesn't leave a gritty texture and has a lighter crumb. 
Cocoa powder. Sifted and unsweetened. 
Baking powder. The leavening agent used to give the brownies some stability. 
Sugar substitute. The best sweetener to use is allulose, as it dissolved like sugar would. You can try monk fruit or erythritol, but you risk the brownies being grainy. 
Eggs. Room temperature. 
How to make low carb brownies
This recipe really has to be one of the easiest dessert recipes ever. It requires less than 5 minutes hands-on time and after 15 minutes, you'll have freshly baked brownies.
Let's get baking!
Step 1- Make the brownie batter
Start by combining the butter with half the chocolate. Microwave in 20-second increments until the both are mostly melted. Using a spoon, gently mix until smooth.
Next, beat the eggs until frothy. Slowly mix in the butter/chocolate mixture until combined. Add the dry ingredients then fold through the remaining chocolate. 
Step 2- Bake the brownies
Now, transfer the brownie batter into a lined square pan. Bake the brownies for 14-18 minutes, or until a skewer comes out mostly clean. Let the brownies cool in the pan for 20 minutes before carefully transferring to a wire rack to cool completely. 
Tips to make the best recipe
Do not over-bake the brownies as they will continue to bake as they are cooling down. If you'd like more cakey brownies, you can cook them closer to the 18-minute mark.
Fold through chopped walnuts, other kinds of chocolate (like white chocolate!) or even low carb fruit (like berries). 
Sift your dry ingredients if there are clumps throughout. 
Storage instructions
These brownies can be stored at room temperature, provided you intend to consume them within 3 days. Ensure they are in a sealed container or covered on a plate.
Saying that, they are best stored in the refrigerator and will keep well for up to 7 days.
Store them in the freezer to keep them even longer! Wrap the brownies in parchment paper and place them in a ziplock bag or shallow container. They will keep fresh for up to 6 months.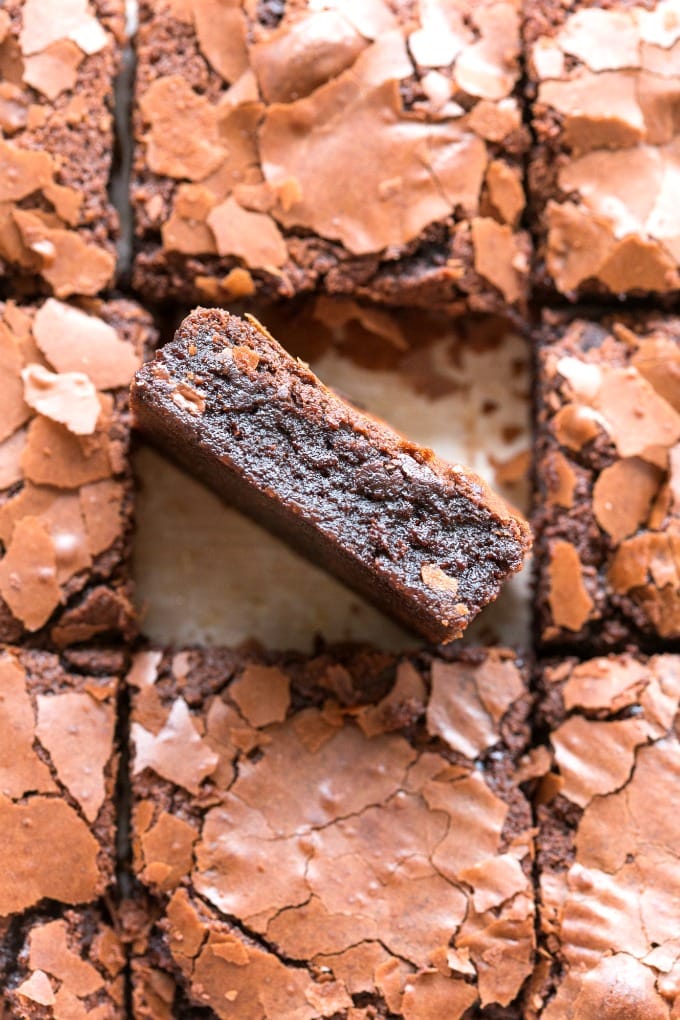 More brownie recipes to try
Frequently Asked Questions
How many carbs are in keto brownies?
There are just 3 grams of carbs in each serving.
Can I substitute the almond flour?
This recipe works best as written. Any substitutions cannot be vouched for.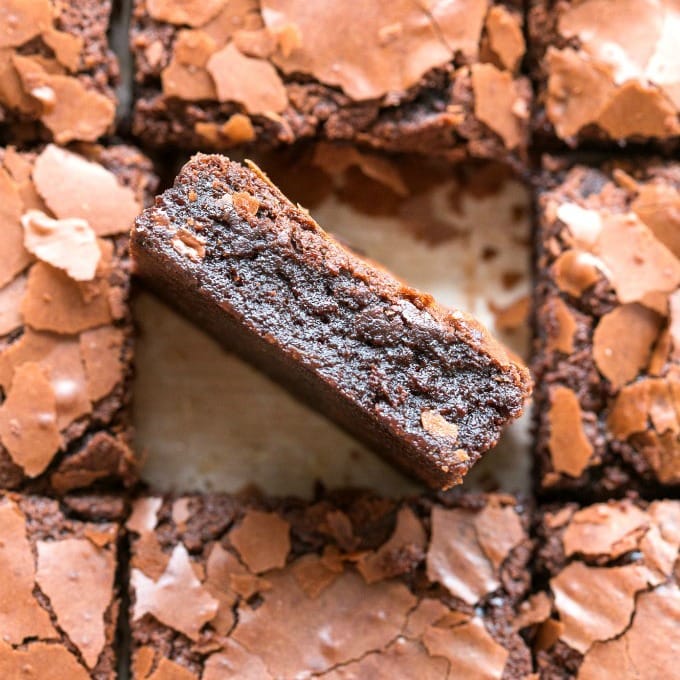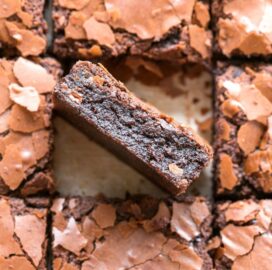 Preheat the oven to 180C/350F. Line an 8 x 8-inch pan with parchment paper and set aside.

In a mixing bowl, combine all your dry ingredients and mix well.

Combine butter with half the chocolate and melt on medium heat until warm and melted. Whisk together until glossy and combined.

In a separate large bowl, add your eggs and using an electric mixer, beat the eggs until slightly frothy and the whites and yolks and combined.

Slowly add the chocolate and butter mixture to the eggs and continue mixing.

Add the dry ingredients slowly, and continue mixing until you are left with a thick, glossy brownie batter. Fold in remaining chocolate chips.

Transfer your brownie batter into an 8 x 8-inch pan covered with parchment paper. Bake the brownies for 14-18 minutes, or until a skewer comes out just clean from the center.

Remove from the oven and allow the brownies to cool in the pan for 20 minutes, before carefully transferring to a wire rack to cool completely.
TO STORE: Leftovers can be stored in the refrigerator, covered, for up to one week.
TO FREEZE: Place the baked brownies in a shallow container and store them in the freezer for up to 6 months. 
Serving: 1Brownie | Calories: 180kcal | Carbohydrates: 5g | Protein: 3g | Fat: 17g | Potassium: 3mg | Fiber: 2g | Vitamin A: 150IU | Vitamin C: 2.5mg | Calcium: 20mg | Iron: 0.5mg | NET CARBS: 3g