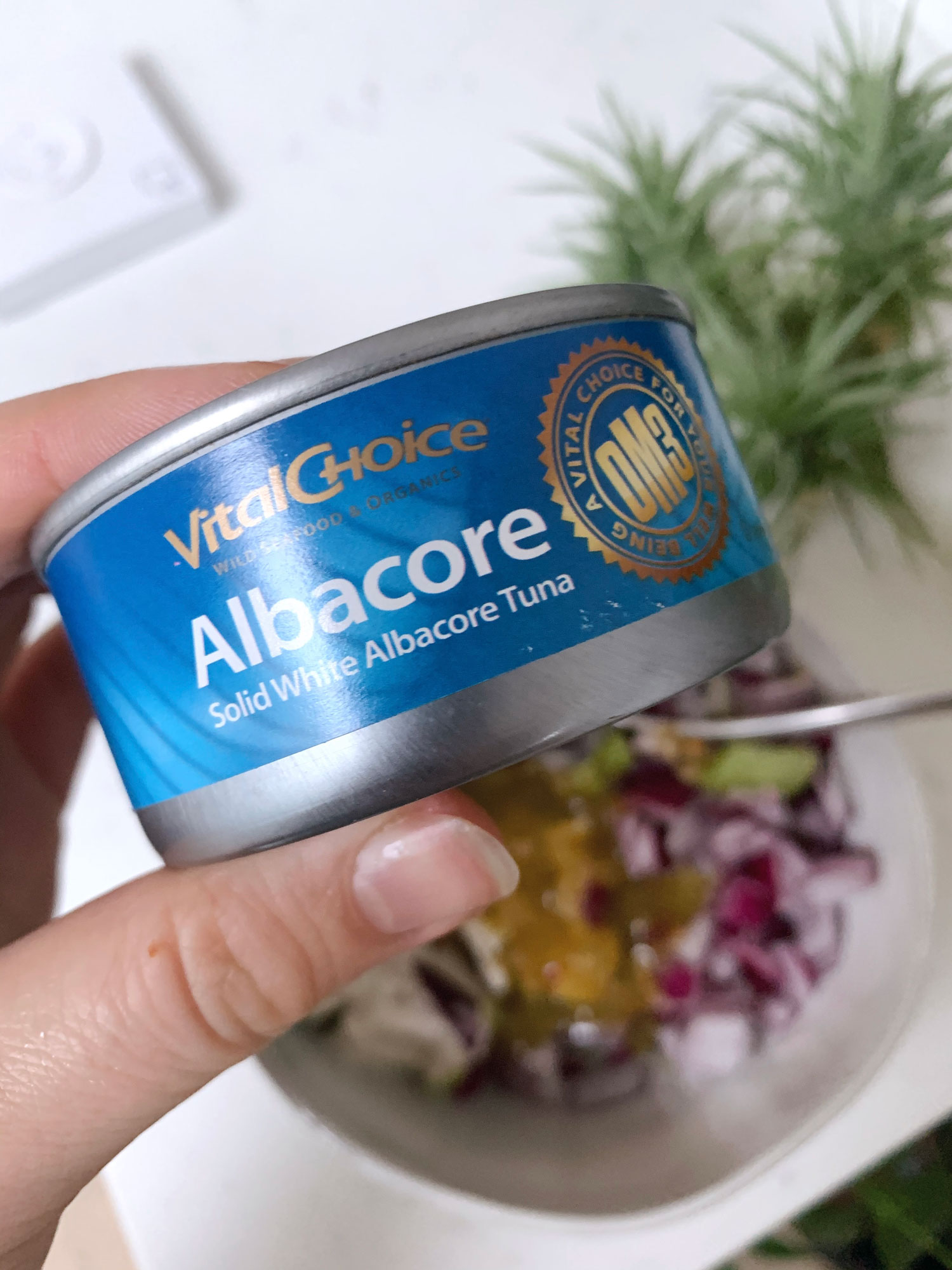 This post may contain affiliate links, which means that we make a small commission when you place orders using our links.
If you're like most frantically busy people, you're likely not getting enough Omega-3s in your diet. When this one nutrient is missing, you can expect brain fog, depression, anxiety, inflammation and a host of other health issues that affect the day-to-day quality of your life.
Fortunately, there is a company that provides one of the most abundant sources of this nutrient fatty acid in their wild-sourced seafood – Vital Choice. If you're looking for sustainable seafood that's delivered to your front door, this review is for you.
Vital Choice is a company that delivers sustainable seafood and organics. Their fish is not farmed, but wild-caught, flash-frozen without antibiotics and GMOs, and full of healthy Omega-3 fats. When you order from them, your seafood comes delivered in a box with dry ice, proportioned and ready to put directly into your freezer or to cook that same day.
While you can order a one-time purchase, the biggest bang for your buck comes in their subscription service called "Vital Box" which is a curated, monthly delivery of wild-caught seafood. Breakfast Criminals founder Ksenia has tried it and has been raving about it since!
You can choose from the following monthly plans to get wild, sustainably caught, flash-frozen fish:
Wild Salmon Box: 2–3 products monthly which amounts to 10–14 servings of recipe-ready portions of salmon, and rotating fish selections of items like salmon burgers or salmon sausage. ($129)
Wild Fish Box: 4–5 varieties monthly which amounts to 14–16 servings of recipe ready portions of salmon, white fish, and tuna, from more than a dozen wild fish species. ($169)
Wild Seafood Box: 6–7 varieties monthly which amounts to 18–22 servings and definitely the most variety and savings for quality, wild caught seafood including recipe-ready portions of salmon, white fish, and tuna, as well as a rotation of wild shrimp, prawns, scallops, and calamari. ($199)
Vital Choice Wild Seafood Includes:
Salmon Roe – Salmon Roe (fish eggs) can be just as beneficial as eating whole fish, protecting against inflammation, heart disease, rheumatoid arthritis, and obesity.
Sockeye Salmon – Sockeye salmon differs from the species Coho salmon, because of their bright, red color. Sockeye's saturated, red color is different from Coho, that's  often called silver salmon. The color of Sockeye salmon have high antioxidant levels and nutritional value due to their diet of tiny crustaceans that eat nutrient-dense algae and zooplankton.
Salmon Burgers – One of Vital Choice's most popular products, you can order petite or large sized salmon burgers prepared with Sockeye salmon. The patties are firmer than most, so they stay together well on the grill.
Sardines – Choose from a nice selection of wild Portuguese sardines canned in tomato sauce, olive oil, or with a little extra kick like red chilis.
Tuna – Choose from wild-caught Ahi steaks, wild-caught Albacore (it's incredible and makes the best tuna salad!), or Skipjack tuna for a tremendously good tuna sandwich or the perfect fish grill this summer. The Ahi tuna poke kits are also super easy to assemble if you like a Hawaiian style fish salad.
Fish Eggs – Ikura, the Japanese word for salmon fish eggs, come as caviar, ranging in portions from 6 ounces to 2.2 pound trays.
Vital Choice Shellfish:
Scallops – Choose from wild Atlantic, wild Patagonia, or wild Alaskan sea scallops, all with a slightly unique flavor.
Lobster – Choose from whole, wild caught, Maine lobster, or lobster tails.
Dungeness Crab – Choose from bagged, cooked, and portioned crab meat, crab legs, or whole crabs, or opt for the canned version for a crab salad recipe.
Vital Choice Supplements:
Fish Oil – Vital Choice offers 1000 mg wild salmon fish oil softgels, among other fish oil products for Omega-3 supplementation.
Krill Oil – Sourced from wild Antarctic krill, known as one of the best sources of krill. Get yours in 1000 krill oil gel caps for Omega-3 supplementation.f
Vitamin D3 – Vitamin D helps to boost immunity and decrease inflammation. It's a powerful nutritive addition to Omega-3 fish oil in a gel cap.
The Pros:
Why Wild Caught?
There are a lot of seafood sources to choose from at your local grocery store or health food store, or even as a subscription service, but wild-caught is a better choice and Vital Choice is ALL wild-caught, non-GMO, delicious, and sustainably sourced. The reasons you'd want wild-caught seafood as opposed to farmed are:
Farmed fish are often genetically modified, and if released in the wild can harm seafood populations and thus the environment.  Data shows that fish born in the wild from hatchery-reared parents have about 37 percent the reproductive fitness of fish with two wild parents. Farm-raised fish can also spread contaminates and fish farm waste into rivers, oceans, and streams which eventually affects local wildlife. Farm raised fish are also often given antibiotics, which you inadvertently consume, adding to antibiotic resistance. This is a phenomenon where your body no longer reacts to the antibiotics a doctor might give. You no longer have immunity to super-bugs that have developed alongside wide-spread over-use of antibiotics.
Wild caught fish have higher levels of Omega-3 fatty acids. Farm-raised fish can't compete with the amount of Omegs-3s in wild-caught fish due to the variety of their diets. Sockeye salmon, in particular, have better color than farm-raised fish and this is due to their diet, so not only are they better for you, they also present well on a plate without the artificial color that is added to some farm-raised salmon so that it looks like wild salmon.
Wild salmon tastes better. The diverse diets of wild-caught fish cause them to taste much better than farm-raised fish. The meat of wild-caught fish is also leaner, while still being packed with healthy Omega-3 fatty acids because wild fish are constantly swimming looking for their next meal, as opposed to farmed fish that are often over-packed into small fisheries.
Why Omega-3s are So Important
Let's get into the specifics of Vital Choice as a supplier of Omega-3-rich seafood, and why Omega-3s matter. As a long-time yoga instructor, mother, business owner, and fitness aficionado, I like to look into the "why" before every "buy." I know my diet is the first step toward fueling a busy life and sustaining the energy, mood, and health that I need to function at top levels, so I really dig into the research behind certain nutrients, supplements, and functional foods so I know what I'm doing for my body when I consume them. As it turns out, Omega-3s are one of those "gotta have" nutrients.
Here's why:
Most people, Americans in particular, have an overabundance of Omega-6s in their diet and not enough Omega-3s. Throughout human history, our diets were abundant in seafoods like fish and shellfish that contain Omega-3 fatty acids, also known as long-chain fatty acids or  eicosapentaenoic acid and docosahexaenoic acid (EPA and DHA). There are also short-chain Omega-3 fatty acids called alpha-linolenic acid (ALA) found in sources like sea algae. We didn't eat a lot of Omega-6 fatty acids, as these come in the form of seed oils.
Our ancestors likely consumed Omega-6 and Omega-3 fatty acids in a ratio of 1:1, and thus were free of modern inflammatory issues caused by eating an abundance of Omega-6s and not enough Omega-3s. The modern ratio is more like 20:1. Why is this a problem Research suggests that an excess of Omega-6s can add to:
High blood pressure
Blood clots
Stroke
Heart Attack
Increased cancer risk
Diabetes
Arthritis
Dementia
Inflammatory diseases
Depression
This problem of eating too much Omega-6 fatty acids without enough Omega-3s to balance them started during the industrial revolution when the vegetable oil industry started making Omega-6 rich oils that were used in cereal grains and also for feed given to domestic livestock.  This altered the fatty-acid profile of not just us, but the meat we are eating, so it's more important than ever to consume seafood as a good source of Omega-3 fatty acids.
While you can get some Omega-3 fatty acids from plant sources like flax seeds and nuts, EPA and DHA are really only bioavailable in significant amounts in seafood sources.
What's even more interesting is that studies of Blue Zone areas – those where people most often live to be 100 or more years of age – the fish that are eaten are middle-of-the-food-chain species most often and aren't exposed to high levels of chemicals, PCBs, or mercury When I was pregnant, this was of particular importance to me because though Omega-3s are critical to fetal health, mercury is particularly worrisome. Omega-3s are critical to a developing infant's brain and also help to combat depression both during pregnancy, and post-partum.
The Cons:
Knowing I'm getting wild-caught fish from a sustainable company is solid. The only con is that if you want to save the most money for your new Omega-3 supplementation habit, while dining on some delicious seafood, you're going to need to portion part of your monthly food budget to the Vital Choice subscription. I find that it's worth it for three reasons:
I like seafood.
It's cheaper than going to Whole Foods and buying whatever they have there.
I don't have to leave my house since it's delivered to my doorstep.
So really you're paying for quality and convenience. I'm ok with that, but you have to decide how much seafood you're actually going to eat. I find that the most expensive subscription contains some amazing variety but every month or so my freezer gets a bit full when I just don't have time to cook and I end up going out for dinner at the end of a long workday several times in a week.
Questions:
Is Vital Choice a good company? I think Vital Choice is a solid selection for sourcing wild-caught seafood. They also offer a 100% money back guarantee if you get a box and something is wrong or you don't love your seafood selections. That kind of presents buyer's remorse if you just want to check them out.
Where is Vital Choice located? Vital Choice is a privately owned company that's been around since 2001, and is located in Bellingham, Washington.
Where to Buy
You can buy Vital Choice directly from your computer or smartphone. Your order is taken online, and delivered straight to your home.
Coupon Codes
Use code 1BREAKFASTCRIMINALS5 for 5% off site wide and free shipping on orders $99+ on vitalchoice.com.
Ingredients
Vital Choice ingredients vary, but primarily contain 100% organic, non-GMO, shellfish, and wild-sourced seafood.
Final Review
Vital Choice is one of the easiest, convenient, affordable ways to get wild-caught, Omega-3 fatty acid-rich seafood delivered to your home, office, or restaurant on a consistent basis. It tastes better than farmed seafood, is super fresh since its flash-frozen and then sent in a box with dry-ice, and is portioned to start cooking right away, or to save for later in the month.
Their subscription plans allow you to choose a seafood selection that is right for someone living a single life, families, or even people who entertain often, and want to serve great seafood at their dinner parties. While quality seafood isn't inexpensive, knowing you are getting high-quality seafood at an affordable price makes this a winning choice for your health and your budget.
Ready to try some Omega-3-rich, sustainably sourced, wild caught seafood? Click here.
Read next:
Dr. Andrew Weil Shares How To Make The Best Matcha Green Tea & Top 5 Matcha Benefits
A DNA Test Suggested I'm Not A Morning Person. Here's What I'm Doing About It
Medical disclaimer:
This post and all content on this website is intended for informational purposes only and not intended to serve as professional medical advice. Please consult your doctor and your own body on what works for you.