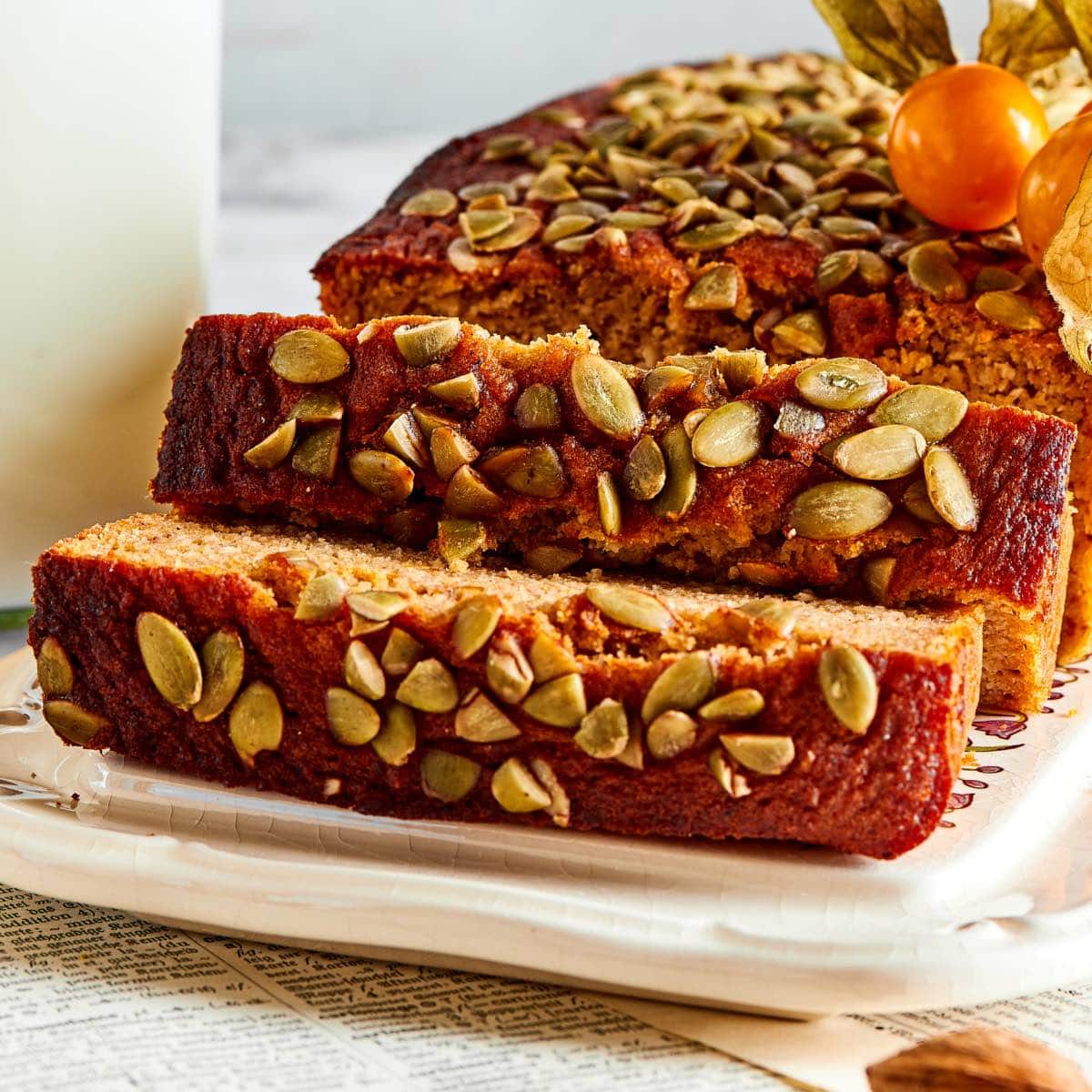 This recipe for keto pumpkin bread is truly a keeper- a moist and tender loaf that is topped with pumpkin seeds and takes minutes to prep!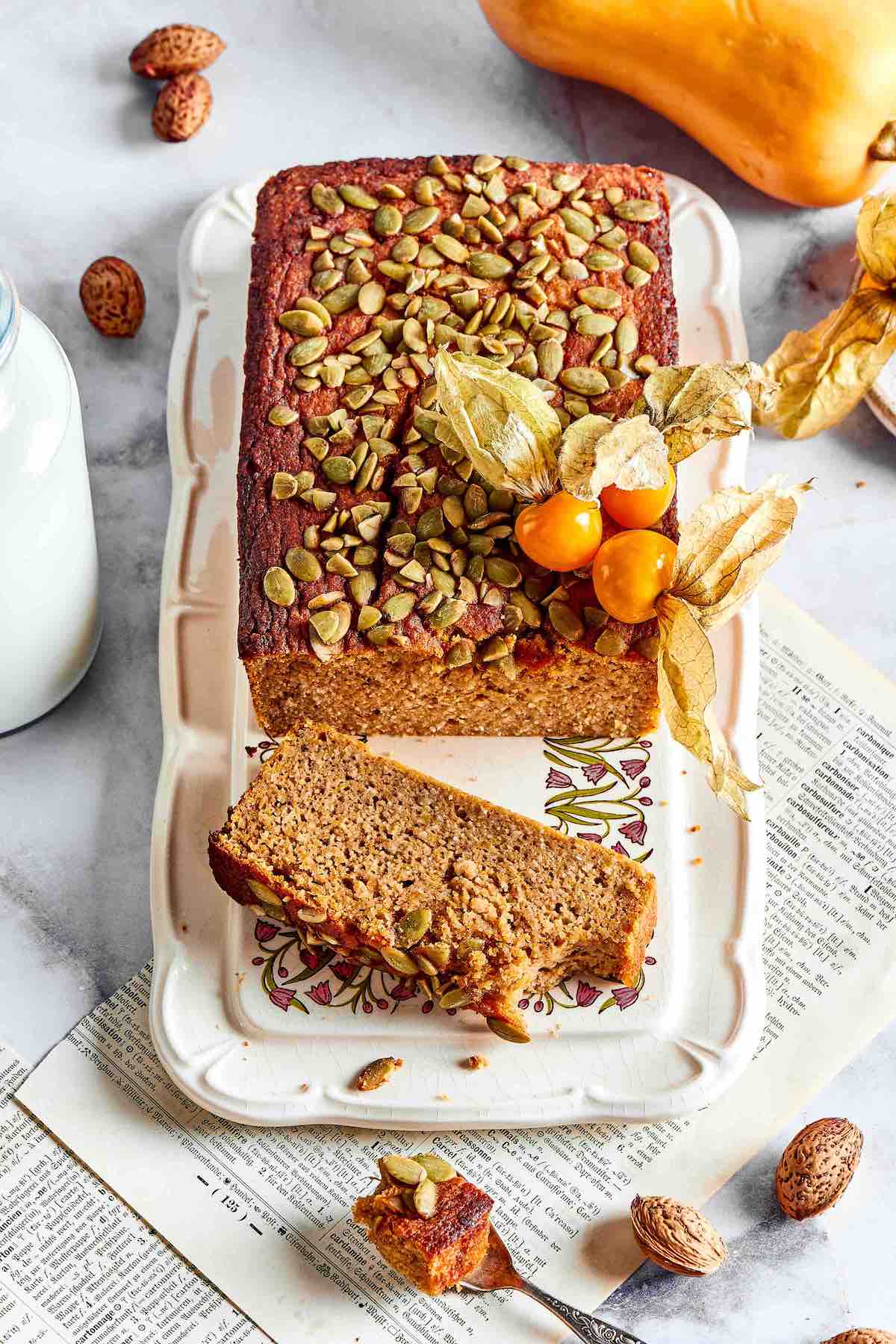 We love a good quick bread recipe around here.
When I say quick bread, I definitely mean the sweet kind. Some of our low carb favorites include banana bread and zucchini bread. Come the festive season, we love a good low carb pumpkin bread.
Why you'll love this recipe
Made with almond flour, which guarantees a light and tender crumb. There is NO coconut flour in this to compensate, so no fears over dense or sturdy loaves. 
Ready in under 45 minutes, which leaves you time to have dinner prepared while it's baking (like a 10 minute stir fry!)
Freezer friendly, so you can save a few slices to hide away in your freezer to enjoy at a later date! 
One bowl, which means your dishes will be clean before you even place the bread in the oven! 
The secret to the perfectly moist and tender keto pumpkin bread is to use homemade pumpkin puree– This ensures the most perfect loaf that tastes absolutely incredible, thanks to the freshness of the pumpkin!
Ingredients needed
If you've made any of my keto desserts before, you'll definitely already have everything in your pantry. Here is what you'll need: 
Almond flour. You must use blanched almond flour, not almond meal. Blanched almond flour yields a light and fluffy loaf, whereas almond meal will see the loaf become heavy and dense. 
Baking powder. Gives the bread a little rise. 
Granulated sweetener of choice. Either monk fruit sweetener or erythritol. Only a little bit will be used, as there is already some syrup in this recipe. For a richer flavor, use keto brown sugar. 
Pumpkin pie spice. A must for any pumpkin recipe! 
Pumpkin puree. I used homemade pumpkin puree, which is essentially just pureed pumpkin. You can use the canned variety, but be sure it is unsweetened (not pumpkin pie filling!). 
Butter. For that perfectly rich and buttery loaf. 
Eggs. Room temperature.
Pumpkin seeds. To top the bread with before baking. 
How do you make keto pumpkin bread?
Step 1- Make the batter
Start by mixing your dry ingredients in a small bowl, then set it aside.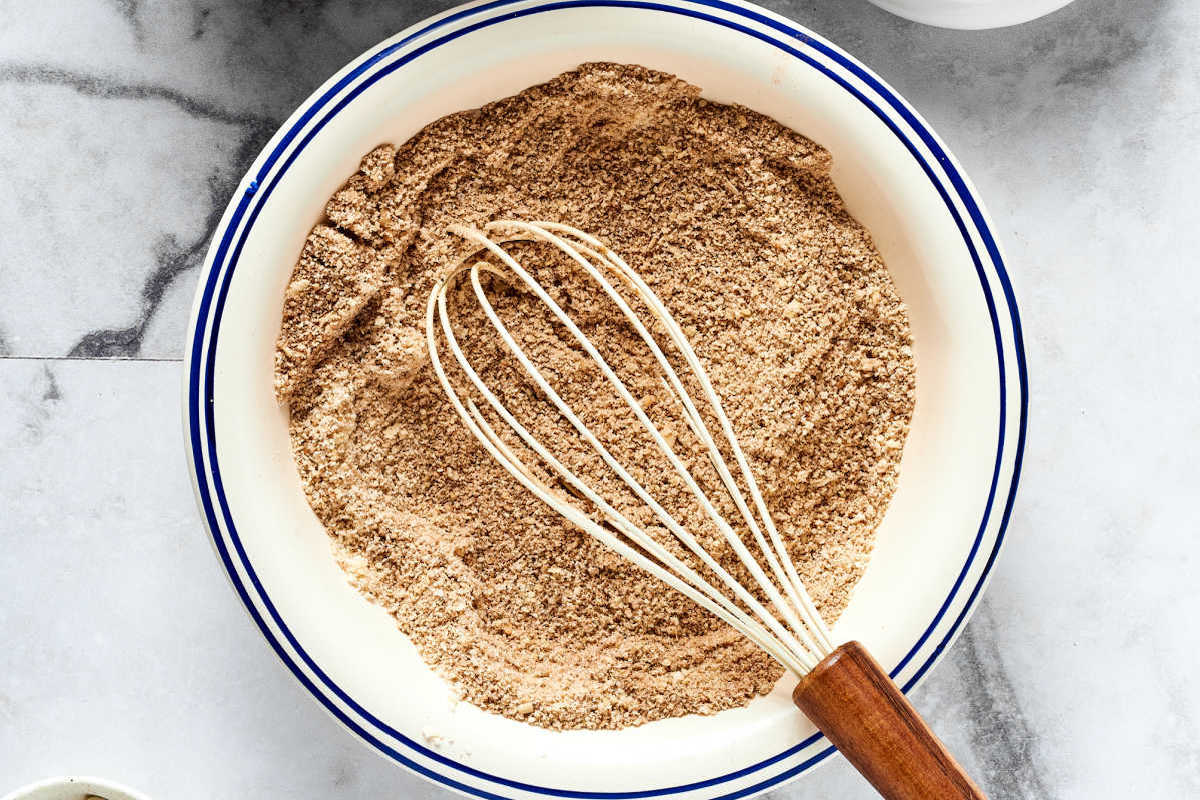 In a mixing bowl, whisk together your pumpkin puree, butter, and eggs until smooth. Slowly add your dry ingredient and mix until just combined.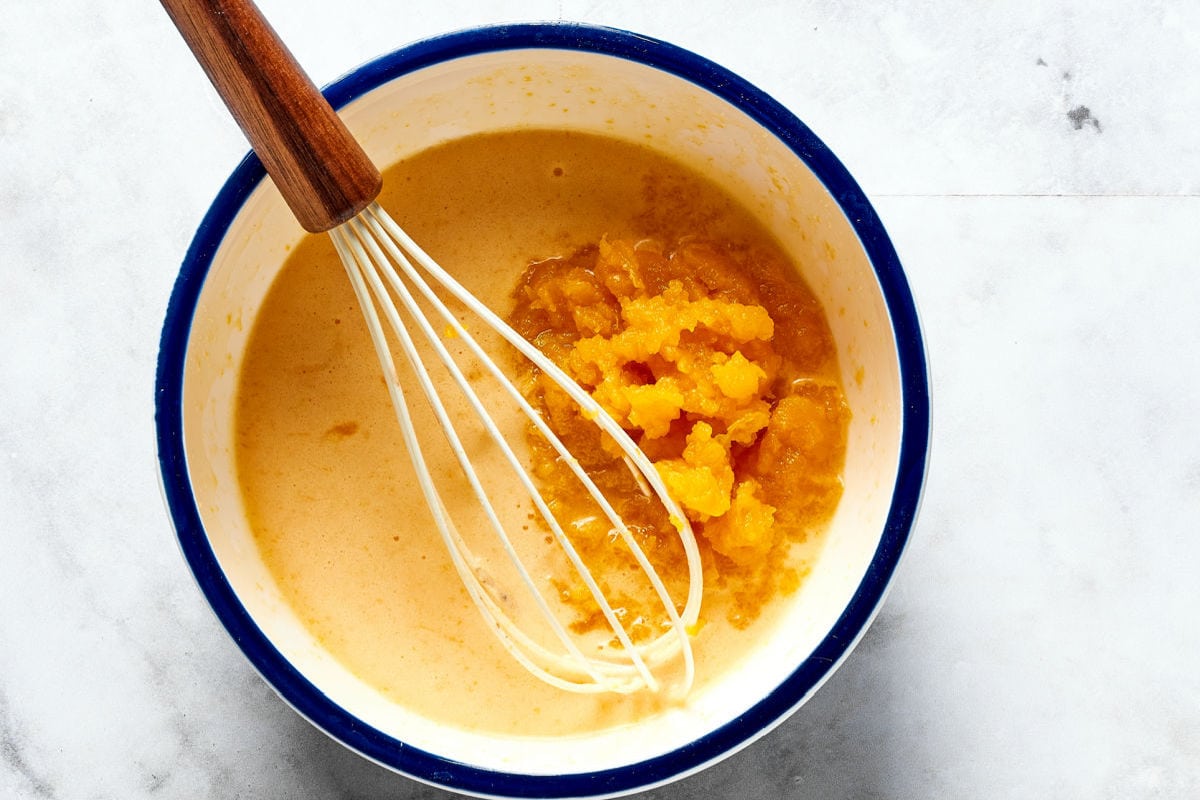 Step 2- Bake the bread
Transfer the batter into a loaf pan and sprinkle pumpkin seeds on top. Bake the bread until a skewer comes out clean, then remove it from the oven and allow the bread to cool in the pan completely.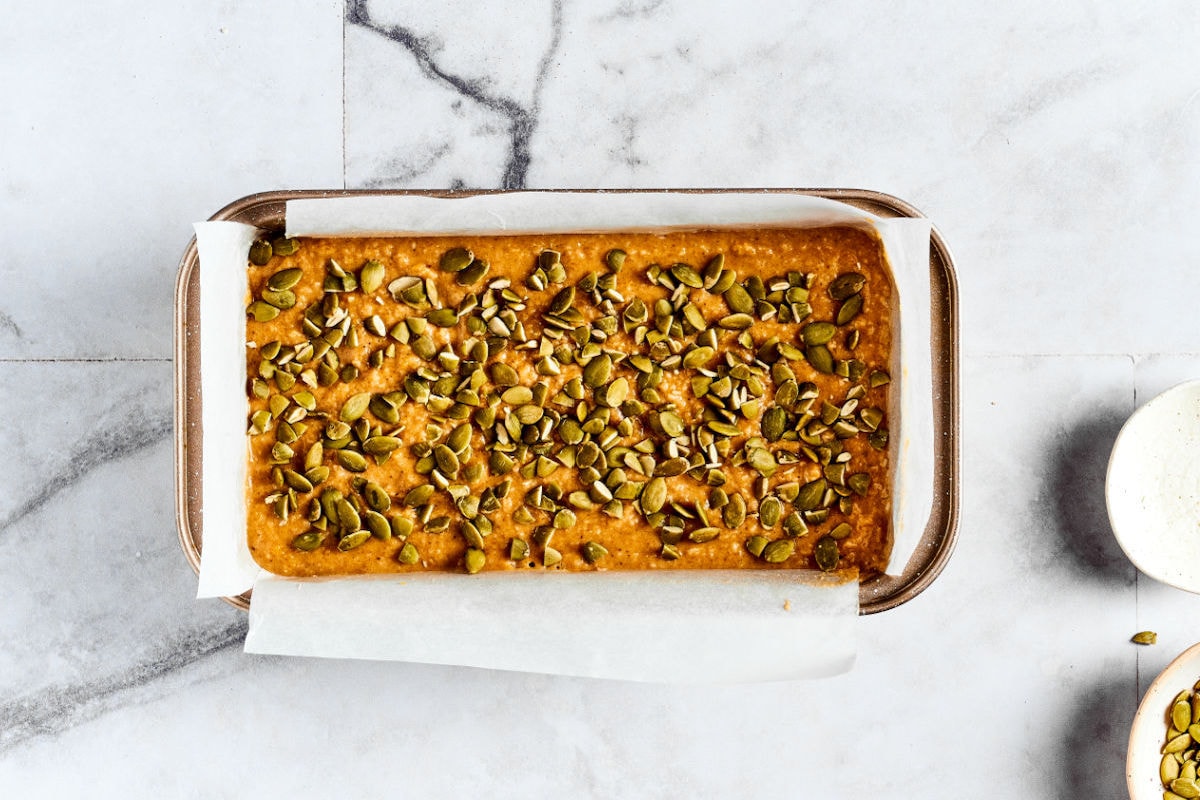 Tips to make the best recipe
I recommend covering your bread halfway through with tinfoil, to ensure the tops aren't over brown.
Everyone's ovens differ, so you may need to bake longer to ensure it is completely cooked. You will know your pumpkin bread is properly cooked when the center springs back slightly and a skewer comes out clean. 
This bread is not super sweet at all. If you'd like super sweet bread, double the amount of the granulated sweetener or add some chocolate chips. 
If you don't have pumpkin pie spice, you can use all cinnamon or a mix of cinnamon and nutmeg. 
Dietary swaps and substitutions
The beauty of this quick bread is just how easy it is to customize with a plethora of diets or variations. Here are some tested ideas: 
Try them without eggs. If you follow a vegan diet or don't have eggs on hand, swap them out for an egg substitute.
Use a liquid sweetener. Try using keto maple syrup instead of a granulated sweetener. 
Turn them into muffins. If you'd prefer something more portable and portion controlled, you may prefer making keto pumpkin muffins. 
Add mix-ins. Chocolate chips, chopped walnuts, and raw pecans are all fantastic mix-in ideas. 
Storage info
To store: As this pumpkin bread is super moist, always store it in the refrigerator. Keep it covered and it will keep fresh for up to one week. 
To freeze: Place leftover slices in a ziplock bag and store them in the freezer for up to 6 months. Thaw overnight in the refrigerator.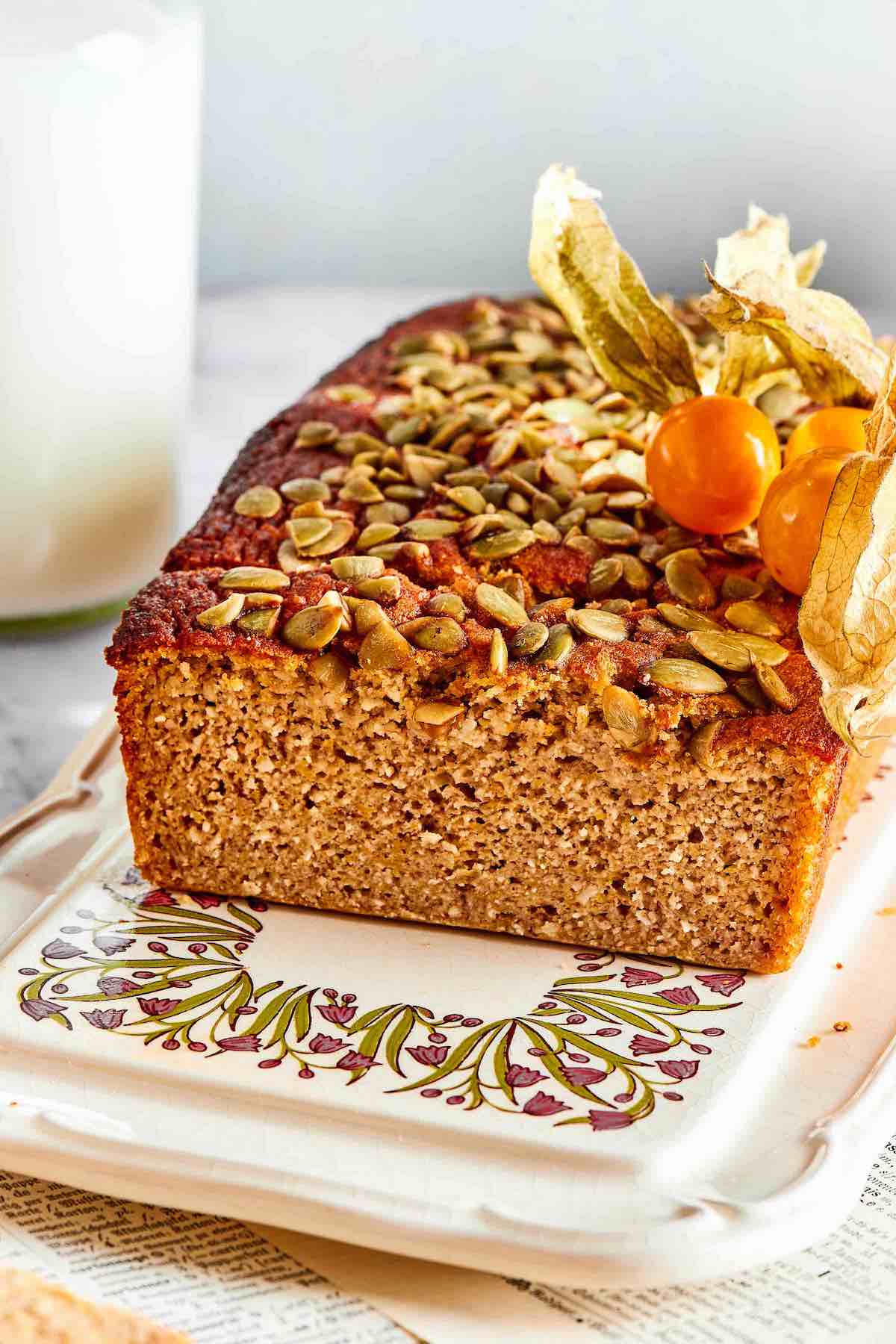 Frequently Asked Questions
How many carbs in pumpkin bread?
When made as written, keto pumpkin bread has just 2 grams of carbs per slice.
Is pumpkin puree keto friendly?
Unsweetened pumpkin puree (Like Libby's) is suitable for a low carb diet as they have no added sugar and have just 4 grams of net carbs per cup serving.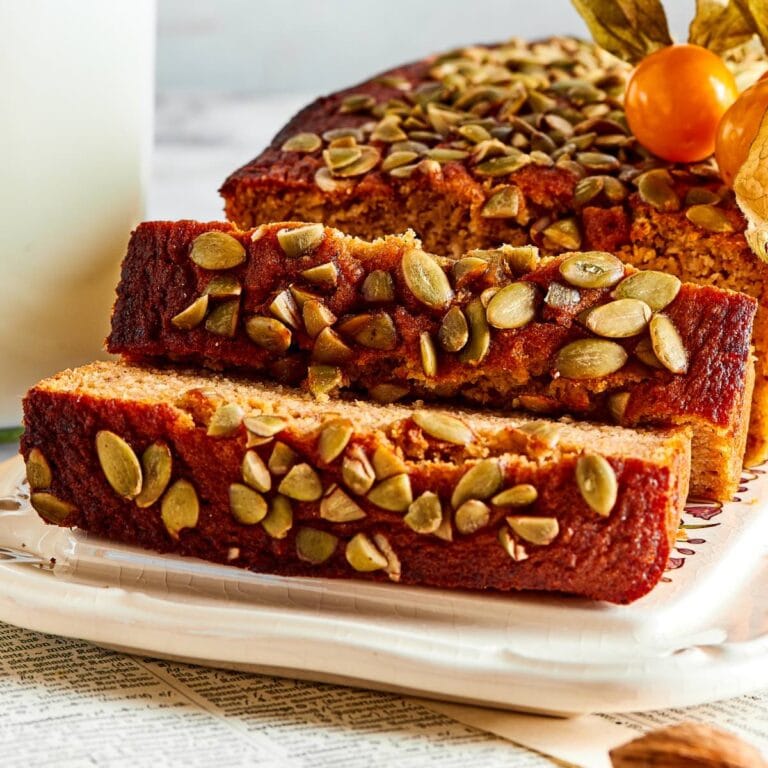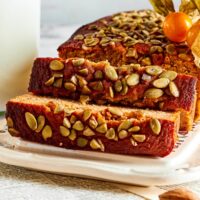 Preheat the oven to 180C/350F. Line a loaf pan with parchment paper and set aside.

In a small mixing bowl, combine your almond flour, allulose, baking powder, and pumpkin pie spice and mix well. In a separate bowl, whisk together your pumpkin puree, melted butter and eggs. Combine your wet and dry ingredients.

Transfer your batter into the lined pan and sprinkle with pumpkin seeds. Bake for 40-45 minutes, covering the top of the loaf pan halfway through with parchment paper, to avoid the tops over-browning.

Remove from the oven and allow to cool in the pan completely, before slicing.
TO STORE: As this pumpkin bread is super moist, it should always be stored in the refrigerator. Be sure that it is completely covered, and will keep fresh for up to 2 weeks. 
TO FREEZE: Place slices of pumpkin bread in a ziplock bag and store it in the freezer for up to 6 months. Thaw overnight in the refrigerator. 
Serving: 1serving | Calories: 153kcal | Carbohydrates: 7g | Protein: 7g | Fat: 12g | Sodium: 125mg | Potassium: 105mg | Fiber: 4g | Vitamin A: 6422IU | Vitamin C: 2mg | Calcium: 65mg | Iron: 2mg | NET CARBS: 3g