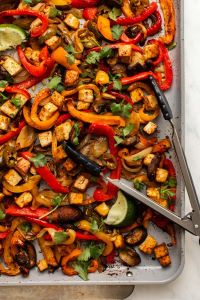 By Julia Comino, VRG Intern
Over this past summer, I joined Marcy Schveibinz, a Vegetarian Resource Group volunteer and certified health and wellness coach, while she virtually led a Christopher Place class covering "Basic Nutrition." Christopher Place Employment Academy is a residential program that supports men who have experienced houselessness, incarceration, or addiction by providing education and recovery resources, and Mary Schveibinz has been involved with the program's cooking and nutrition classes for years. The class I joined was engaging and the men in the call that day were friendly and actively participating in the lesson. I was able to speak and join in the discussions of fats, oils, dietary fibers, and other nutrients as well as listen to the lively discussion of foods that the men brought up. Following my experience watching Marcy's class, I was excited to be asked to join the Christopher Place program for another class, not as an observer, but rather as the class leader for their August 16, 2022 class.
In the weeks leading up to the class, I prepared by recalling all of my favorite vegan recipes from over the years. Although I had been vegetarian for four years, vegan for a year, and an avid cook since childhood, my past year spent in college dorms kept me from cooking as much as I would like. Thus, this was an opportunity not only to share one of my favorite vegan dishes but also to relearn my love for cooking. I decided on my recipe for Vegan One-Pan Fajitas, inspired by From My Bowl's Vegan Sheet Pan Fajitas. I chose this recipe because I felt that it highlighted how simple and affordable vegan eating can be. Alexis Brown, a high school senior and VRG volunteer, offered her hand in helping to prepare for the class, writing a short presentation on the affordability of vegan diets. Once I had gone to my local grocery store and collected all of the ingredients for the dish, I was excited and ready for the class.
However, the best-laid plans are often the ones that don't go as expected. When I joined the Christopher Place class zoom that day, I was met with a class of about a dozen men excited to begin cooking. I started by introducing myself, The Vegetarian Resource Group, Alexis Brown, and our recipe for the day. As I started directing the men to begin chopping their vegetables, I was met with awkward confusion until one of the men informed me that the ingredients and recipe they had for the day were actually for a Vegan Jicama and Chickpea Stir-Fry. After a few seconds of confused discussion, we decided that the men would continue to cook the recipe that they had been given as I would cook my fajitas recipe as they did so. Although not, according to plan, the men accepted the challenge with enthusiasm, going to chop their vegetables as I prepared the fajitas vegetables.
Throughout our cooking, we communicated back and forth about what each of us was doing in our recipe. As I began to sauté my chickpeas, mushrooms, peppers, and onion, the men began to cook the rice for their stir-fry. I often slipped in tips, letting them know which vegetables may take longer to cook and when to take the lid off of the rice, and the men would tell me their preferences for toppings and seasonings on tacos. We continued to have a lively, friendly conversation throughout both of our recipes, and as they went to plate their completed dishes, Alexis Brown began her presentation on affordable vegan eating. Alexis shared her family's experience of switching to a vegan lifestyle during the COVID-19 pandemic, and how despite her expectation that this would be an expensive switch, her family found their new diets much more affordable. Sharing tips on buying dried or canned beans or legumes, Alexis displayed how vegan eating can be a simple and affordable choice for many.
As our class came to an end, the men shared that, although we ended up cooking different recipes, their dish turned out delicious and they remarked that they looked forward to trying my recipe out soon. Despite the diversion from the planned class, I was content with the reaction the men shared and promised to send them the recipe I cooked so that they could attempt it too. While things may not always go to plan in the kitchen, I have found that with a good conversation and some impromptu decision-making, you can end up with a satisfying and delicious dish.
For information on The Vegetarian Resource Group internships, see: https://www.vrg.org/student/index.php
For more information on The Vegetarian Resource Group's work with Christopher Place Classes, see:
https://www.vrg.org/blog/2022/07/25/more-than-just-a-class-intern-leads-vegan-cooking-class-at-christopher-place-enjoy-her-recipe-for-korean-mexican-styled-bulgogi-tacos/
https://www.vrg.org/blog/2020/02/04/cooking-vegan-chili-at-christopher-place/
https://www.vrg.org/blog/2019/06/27/vegan-cooking-class-at-christopher-place-employment-academy/
To support The Vegetarian Resource Group's outreach activities, donate at www.vrg.org/donate