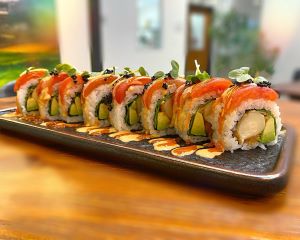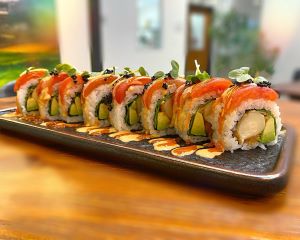 Photo from Nori
The Vegetarian Resource Group maintains an online Guide to Vegan/Vegetarian Restaurants in the USA and Canada. Here are some recent vegan restaurant additions. The entire guide can be found here: http://www.vrg.org/restaurant/index.php
To support the updating of this online restaurant guide, please donate at: www.vrg.org/donate
Here are some new additions to VRG's guide (Note: Due to the COVID-19 pandemic many are doing take-out and/or delivery now):
Bang Up to the Elephant, 1310 N. Pearl St., Denver, CO 80203
Apparently, Bang Up to the Elephant is Victorian slang for "properly-done." Happily, humor seems to be a key ingredient in their service and philosophy. If you opt not to dine on their patio, you can still enjoy the taste of relaxation in a lush, tropical garden, basking in blue-green lighting like sea and sky, listening to water flow over a tiered fountain. Plantains, mango, salsas, slaws, papaya, coconut (in various incarnations), jackfruit, mojos, curries, jerk seasoning, and "tangy" cassareep sauce made from cassava root grace their cuisine with the spiced, tropical taste of a West Indian beach vacation. For starters, there's Potato & Plantain Mofongo served over tomato rum sauce, or "House-made," Curried Waffle Fries with pickled onions, tamarind sauce, and fresh herbs to note a couple. Besides dinner sandwiches and plenty of sides, such as Coconut milk bread, baked with raisins and toasted coconut, there are (Plates & Bowls) featuring A "House-made" Coconut Curry of chickpeas with jackfruit or tofu, served over coconut rice, with cornbread. Finally, enjoy a wide variety of beverages and varied desserts. Located in the Capitol Hill section, Bang Up to the Elephant is "A 2-min walk from The Molly Brown House," close to many other museums and shopping.
Caribbean Style Vegan, Ninth Square Market Too, 89 George St. New Haven, CT 06510
Small eatery serving flavorful, home-cooked, healthy Jamaican-style meals inspired by Rastafarian beliefs. Order a small, medium or large combo plate online, choosing your selection from a wide array of proteins and veggie sides like jerk tofu, plantains, stewed eggplant, curried chickpeas, and of course rice and peas. You can also get veggie or beyond meat patties, or get the different veggie sides independently, and can top it off with desserts like Gizzada cake – a tart crust pastry filled with a coconut ginger spiced filling.  Gluten- and soy-free items are clearly marked.
Coffee and Plants, 62 W. Union St., Pasadena, CA 91103
Their mission is "to help the planet one cup at a time!" Enjoy a wide variety of coffee and tea, as well as muffins, croissant, danish, cookies, pie, and more. They also offer an avocado sandwich and JustEgg coconut bacon sandwich during breakfast and lunch.
Frosty's, 13343 Madison Ave., Lakewood, OH 44107
Frosty's offers vegan softserve ice cream, cake, and coffee. Enjoy baked goods such as brownies, cinnamon buns, cupcakes, cookies, and more.
Garden Carver, 187 Grand St., Brooklyn, NY 11211
Both a neighborhood plant-based butcher shop offering vegan versions of deli cuts, pulled pork, take-home packages for meat to grill at home and charcuterie boards etc., from a growing list of both small local companies and larger brands, and a diner offering coffee (or beer/wine in the evenings) with comfort food such as breakfast burgers, sandwiches, and pastries. Sit in the bright, simple, flower-filled interior or at picnic benches outside and enjoy a lavender latte with homemade syrup alongside a croissant for breakfast, then stay sitting with your laptop all day, eating spicy rigatoni or a meatball sub for lunch, and French bread pizza with wine for dinner.
Nori, Austin, 3208 Guadalupe St., Ste. B, TX 78705
The artfulness and delicacy of Japanese cuisine are enhanced at Nori by the fact that everything is vegan, with many gluten-free options. Maintaining a plant-based kitchen, however, has certainly not limited the variety of menu offerings: celebrating vegetables and using meat replacements at times, Nori serve diners dishes such as the tempura appetizer, perhaps followed by the Nigiri sampler; a Volcano or Rainbow maki; or a Spicy Creamy Ramen. The cocktails are also works of art, and you can continue to imbibe with the peanut butter dessert shake made with screwball bourbon and candied peanuts—or else opt for the virgin Lava Cake served with fresh raspberries.
Plant Slayer, 2405 Capitol St. #101, Fresno, CA 93721
Plant Slayer serves vegan comfort food including cheeseburgers, milkshakes, and fries. Popular burgers and sandwiches include the campfire burger made with plant-based beef, bacon, cheese, and onion rings served on a pretzel bun and the dipped chicken sandwich served with either BBQ or buffalo sauce on a brioche bun. Their animal fries are smothered in a sauce made with Thousand Island dressing, American cheese, and grilled onions. Ice cream and milkshakes are made with cassava-based ice cream and include specialty milkshakes and root beer floats.
Urban Vegan Roots, The World Artisan Market, 34-39 31st St., Astoria, NY 11106
Located between 34th and 35th Avenue in Astoria, Queens, Urban Vegan Roots offers American soul food and Latin inspired vegan cuisine. Sample dishes include crispy Brussels Sprouts, Mushroom Empanada, Fried Green Tomatoes, Citrus Salad, Chick-un & Waffles, Margherita Pizza, desserts, and more.