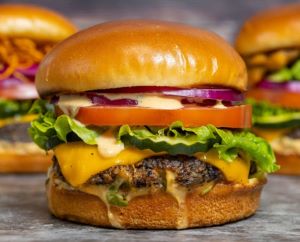 The Vegetarian Resource Group maintains an online Guide to Vegan/Vegetarian Restaurants in the USA and Canada. Here are some recent vegan restaurant additions. The entire guide can be found here: http://www.vrg.org/restaurant/index.php
To support the updating of this online restaurant guide, please donate at: www.vrg.org/donate
Here are some new additions to VRG's guide (Note: Due to the COVID-19 pandemic many are doing take-out and/or delivery now):
Cultivate, 220 Saint Georges Ave., Rahway, NJ 07065
Cultivate says they are "fun spirited." They aim to offer flavorful, vegan comfort food and prepare most of their dishes in house. For sustainability, they use bamboo soup cups and virtually no plastic. They source produce locally whenever possible, and try to avoid foods which use resource intensive production. A couple of Snacks you might consider are Dahi Puri a cold dish of potato, lentils, tamarind and mint chutneys with a yogurt drizzle or Crispy Fried Oyster Shrooms – battered and served with garlic mustard sauce and hot maple dip. Main Courses abound. For the Wild Mushroom Linguine, they dry seasonal mixed, mushrooms themselves and create a broth from them which they incorporate into an herbal-scented cream sauce. There are also various dishes offering vegan chicken, sausages and burger options, Eggplant Napolean (a popular entrée) and Traditional Indian Style Smoked Red Lentils with cumin, coriander, pickled vegetables and jasmine rice to list a few. Sides to keep your entrée company are Peri Peri Fries spiced with their signature blend, Steamed Bok Choy with Cannellini Beans and Garlic and Corn Succotash. Desserts vary seasonally.
Fern's Diner and Drinkery, 4645 Fountain Ave., Cascade, CO 80809
Located at the scenic base of Pikes Peak Highway and next to the Pike National Forest. An evolving menu with a full bar and selection of can beers. Starters such a Poutine, Beyond burgers, fried artichoke Sammy, and desserts such a golden milk apple cookie, as well as other pastries. Breakfast items are served all day! Dog friendly area with an outdoor garden.
Herbie Burger, 5660 Selmaraine Dr., Culver City, CA 90230
Enjoy vegan food made from scratch. Homemade burgers, tofu chick'n, nachos, and a variety of sides. Try the crispy oyster mushroom sandwich with sides of vegan elote and coleslaw.
Keiko's Alkaline Bodega and Tea Shop, 904 W. Lake St., Minneapolis, MN 55408
This bodega and tea shop offers a variety of natural foods products as well as food such as fried chik'n with candied squash and greens.
La Taquiza Vegana, 2216 SE 50th Ave., Portland, OR 97215
Enjoy vegan Mexican food made modern. Vegan Mexican street food. Tacos, burritos, quesadillas, and fries. Location changes; so check website first.
Margo's, 1534 Montana Ave., Santa Monica, CA 90403
Enjoy salads, pizza, sandwiches, pasta, and vegan cocktails at this vegan bar and kitchen. A daily brunch menu includes items such as Huevos rancheros, breakfast pizzas, and yogurt granola bowl. Sidewalk patio available.
The Social Vegan, 101 W. Loudon Ave., Ste. 162, Lexington, KY 40508 and 505 W. Georgia St., Tallahassee, FL 32301
Enjoy choosing from a menu of starters, entrees, classics, drinks, and frozen drinks. Try a starter of portabella pizza caps, a classic black bean burger or vegan chicken Philly, along with a frozen traditional or virgin piña colada.