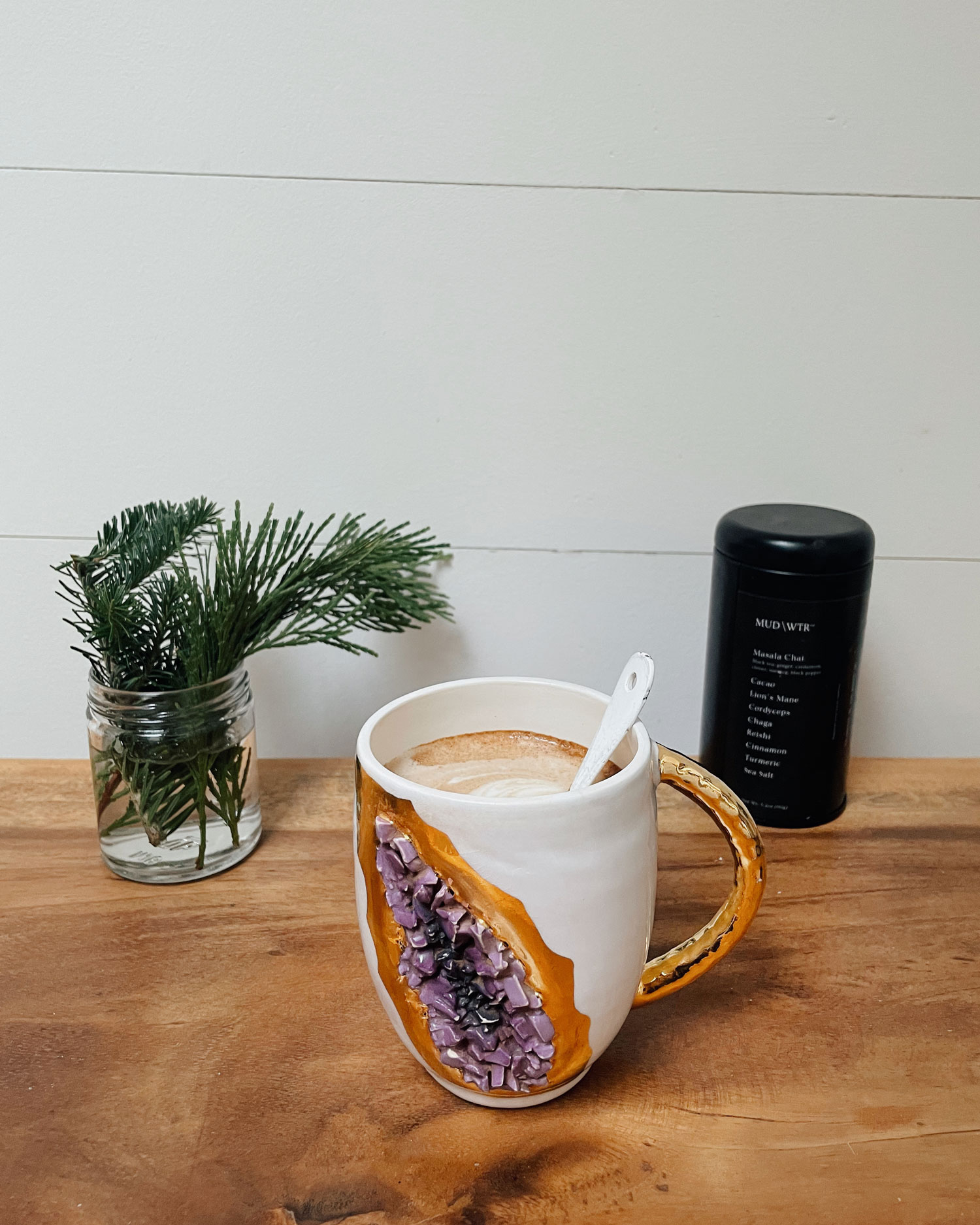 This post may contain affiliate links, which means that we make a small commission when you place orders using our links.
Here's the thing… coffee's caffeine kick comes at a cost. In this review, I'll tell you why I started looking for alternatives to coffee after only one year of drinking it, and why MUD\WTR is a great option if you want to kick your coffee addiction. 
Named by its founder and CEO,
Shane Heath
, because of its muddy look, MUD\WTR is a combination of 100% organic:
Masala Chai Tea which includes: 
Black tea

– Full of polyphenols, antioxidant

catechins that can help prevent heart disease, and the natural stimulants guanine and xanthine.

Ginger

– An antioxidant-rich spice containing gingerol known to alleviate nausea, lower high insulin levels, and reduce menstrual pain caused by inflammation.

Cardamom

– A digestion-soothing spice that also helps reduce inflammation and lower blood pressure.

Cacao

– More flavor comes in the form of cacao, full of magnesium, potassium, iron, and 40 times the antioxidant levels of blueberries

Cloves

– A spice with one of the highest ranking antioxidants on the ORAC scale (Oxygen Radical Absorbance Capacity). For comparison, raw kidney beans rank at about

8459 on the ORAC scale, while 1 teaspoon of ground cloves ranks 314,446

.
Cinnamon

– A commonly used spice with anti-diabetic, anti-inflammatory, anti-viral, and anti-bacterial properties. It also supports a healthy gut and helps control appetite.

Turmeric

– The most active compound in turmeric is curcumin, with massive anti-inflammatory properties.

It's said that one of the reasons there are super low incidences of dementia and Alzheimer's disease in India is because turmeric spice is so commonly used.

Himalayan Salt

– This salt differs from regular table salt. Himalayan salt offers taste, and contains up to 84 trace minerals that your body needs.
Adaptogenic mushrooms like:
Lion's Mane

– A nootropic mushroom known for boosting mental clarity, memory, creativity, and mood.

Cordyceps

– This mushroom is known for high levels of antioxidants, can help

optimize exercise performance, encourage heart health, lower inflammation, and potentially

help manage type 2 diabetes

. There are even

studies

that show that cordyceps can slow down the growth of tumors. If you're curious to learn more about the mysterious and powerful mushroom kingdom, check out

this podcast interview I did with mycologist Jason Scott

.

Chaga

– This mushroom contains sclerotium, a natural black pigment known as melanin which has high antioxidant levels due to the amount of polyphenols it contains, and may help with anti-aging.

Reishi

– This mushroom, often called the "king" is known as an immunity booster and a powerful adaptogen

that can help ease anxiety.
Plain MUD\WTR with hot water – it dissolves super smoothly.

With oat milk or walnut milk and coconut sugar –

here's my favorite chai recipe

. 
Pros

The reasons to love MUD\WTR are many. Aside from the fact that it's 100% USDA Organic, non-GMO, gluten free, vegan, Whole30 and Kosher, let's start with its super dope packaging. There are few food items I like to leave out on my kitchen counter, because I don't like clutter, and because, let's face it something consumable is usually in a throw-away package. I leave MUD\WTR because it's just so darned sexy looking in its black tin. So there's that. It's a superficial reason to like the product, but their CEO is a former product designer, so of course it looks fly.

It also comes in a box with stickers that say things like F**** Coffee, just to psychologically support your endeavor to give up caffeine, or at least lower your intake. You also get, in your first box with the VIP subscription, a NASA-inspired battery-powered whip that you can also plug into a USB if you want to froth your Chai. I have to say, it's super smart marketing and entirely UNboring.

Now onward to the part that really counts – the MUD\WTR itself. It doesn't taste anything like coffee. It tastes like a supercharged tea with a chocolatey flavor. If you're used to the taste of coffee as part of your morning ritual, it may take a minute to get used to so much earthy goodness, but I personally love it.

The fact that you can mix in anything of your choice also gives you ample opportunity to personalize the beverage, and with so much less caffeine, but gobs of nutritional value, warmed in a cup, MUD\WTR is heaven sent. I don't get the coffee jitters. I don't lose sleep at night.

I no longer need 2, then 3, then 4 cups of coffee to keep my brain on task throughout the day, and stop falling asleep during a 3PM Zoom call. I add a dollop of vegan whipped cream to mine, and no sugar or creamer, and it's an absolute delight for around .80 to .90 cents as opposed to paying $5 and driving to my local coffee shop for something far less nutritionally dense.

I also don't get that "instant" kick I'm used to with coffee, but more of a subtle, slow, ramp up into full consciousness. I'm a slow starter and NOT a morning person, so I kind of like a beverage that lets me ease into my day without feeling like it's dragging me out of my slumber kicking and screaming.

I also like that if I don't happen to get around to making my cup of MUD\WTR until later in the morning or early afternoon, I'm not going to lose sleep that night. On top of all that, I'm also not experiencing coffee withdrawal headaches that can come if you try to drop your caffeine habit cold-turkey, so I'd say that adopting this new habit is a huge win.
Cons

This coffee alternative comes as a subscription – although you can adjust your shipment or cancel anytime. The cost seems high for a single tin of orangey, muddy looking powder, but once you know all the ingredients, it's probably worth it.

This isn't a crappy supplement. It's 100% Organic, non-gmo and gluten free and you can taste the quality.  The fact that you're drinking your food-based nutrition is also a benefit that can be overlooked. Half the battle in being healthy is convenience of food and nutrition sources, so a $40 tin of powdered nutrition may seem a bit pricey, but it's crazy convenient.
Common Questions and My Two Cents About MUD WTR Coffee:
Does MUD\WTR taste good?

My opinion is that coffee drinkers will experience a shift in their taste buds, but that MUD\WTR is a delicious, earthy, beverage that tastes like a mix between tea and chocolate, and can be adapted to any taste. You can milk or milk alternative, cream, or even spices like chili or ginger, to taste.

Does MUD\WTR break a fast?

MUD\WTR is more than water or tea, and it does break a fast, but with the drink and their MCT creamer, it is only 65 calories per cup with hot water. 

Is mushroom coffee actually good for you?

Mushroom

anything

is good for you. Adaptogenic mushrooms have been used for thousands of years in multiple cultures to boost health and act as an adaptogenic force to help invigorate the body. Some cultures even saw mushrooms as aphrodisiacs. MUD\WTR sources mushrooms grown in California with special attention to quality and potency.

Is MUD\WTR worth the price?

Sourcing just the adaptogenic mushrooms alone would be costly, but adding in the other high-antioxidant ingredients would be too, so while slightly pricey, totally worth it in my estimation.

Is MUD\WTR sold in stores?

Nope, you can only purchase MUD\WTR online.

Is there caffeine in MUD\WTR? Yes, there's caffeine in black tea, one of the ingredients, but it's 1/7th as much as in a single cup of black coffee.
How many calories are in MUD\WTR?

Without any creamer, almond, macadamia nut or coconut milk, and just water, around 45 calories per cup.

Who owns MUD\WTR?

Shane Heath is the founder and CEO. He lives in Los Angeles, but travelled to India where he got the idea for creating MUD\WTR.

How often can you drink MUD\WTR?

As often as you like. If you drank 7 cups a day, you'd still be getting the same caffeine as a single cup of coffee.

How do I cancel MUD\WTR?

You can cancel your subscription within your MUD\WTR your account anytime.

How long does MUD\WTR take to ship?

My first order came in less than 2 weeks, and refill orders take 30 days.
Price

The best way to drink MUD\WTR is to subscribe to the auto-ship option for $40. With your 30-serving starter kit, you'll get a sample of their coconut creamer and other goodies. Then, you'll get the 30-serving tin on auto-ship every 30, 60 or 90 days – your choice. That's $1.33 per serving.

If you're not ready to commit, get the 30-serving tin for $50 ($1.66 per serving).

And if you're ready to go big and don't need the tin, get a one-time purchase of a 90-serving Mud bag for $125, or the auto-ship version for $100 ($1.11 per serving).

All the options are laid out on the shop page on the MUD\WTR website, including their new sweetener we've been eyeing. The MUD\WTR sweetener is made with two parts coconut sugar and one part lucuma, a divine smelling, sweet tasting superfood we love.

Bonus points: all MUD\WTR bags are compostable!
Alternatives

You can make your own Masala Chai. There are recipes all over the internet, but again you'd need to source your own organic ingredients, mix them up every morning, or make up some batches, and store them until you're ready to use them. If you want to try making your own batch, the Minimalist Baker has a great recipe. That said, you'd be missing all the adaptogenic mushrooms and their health benefits.
Final Verdict

Is this a pricey substitute for morning coffee? Not if you're used to buying coffee or another beverage every morning.

Does MUD\WTR taste anything like coffee? No.

Is it a wonderful, delicious tasting ritual? Yes.

Can MUD\WTR help you kick a caffeine habit? Absolutely.

My habit, created in just one year, is already at least 50% better.

Are there other benefits to drinking MUD\WTR? I'd say, whole heartedly, I feel great about putting such high quality food-based antioxidants and adaptogens in my body. I get sustainable energy and no brain fog without the jitters or caffeine-withdrawal headaches. I can sleep well at night, and I can start my day with ease and grace in the morning. Nothing feels better than developing a new habit that you know is replacing a not-so-great one.