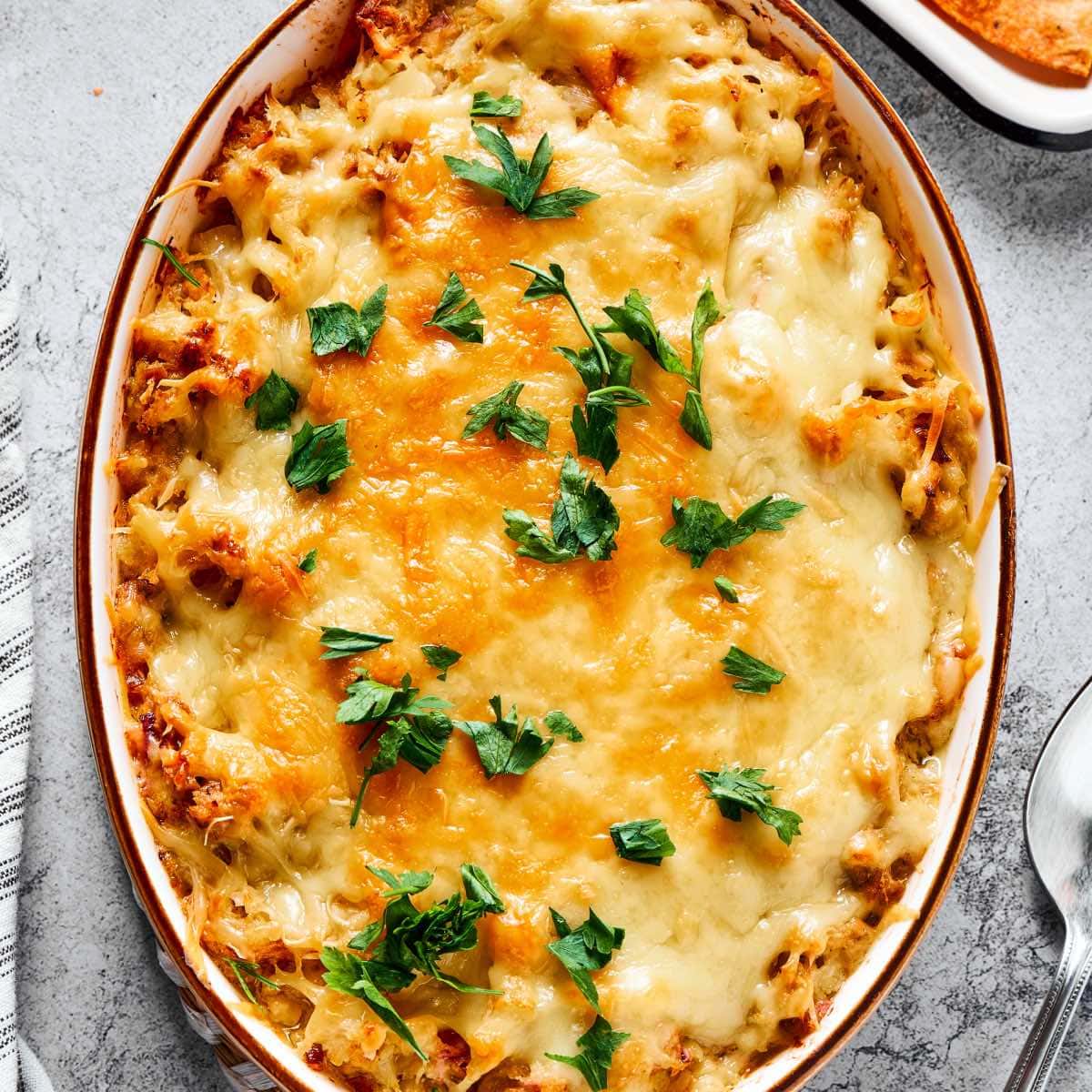 The ultimate dump-and-bake dinner- this tuna casserole is a classic recipe made easier. Made with only a few simple ingredients, you get a perfectly cheesy tuna bake in just 15 minutes.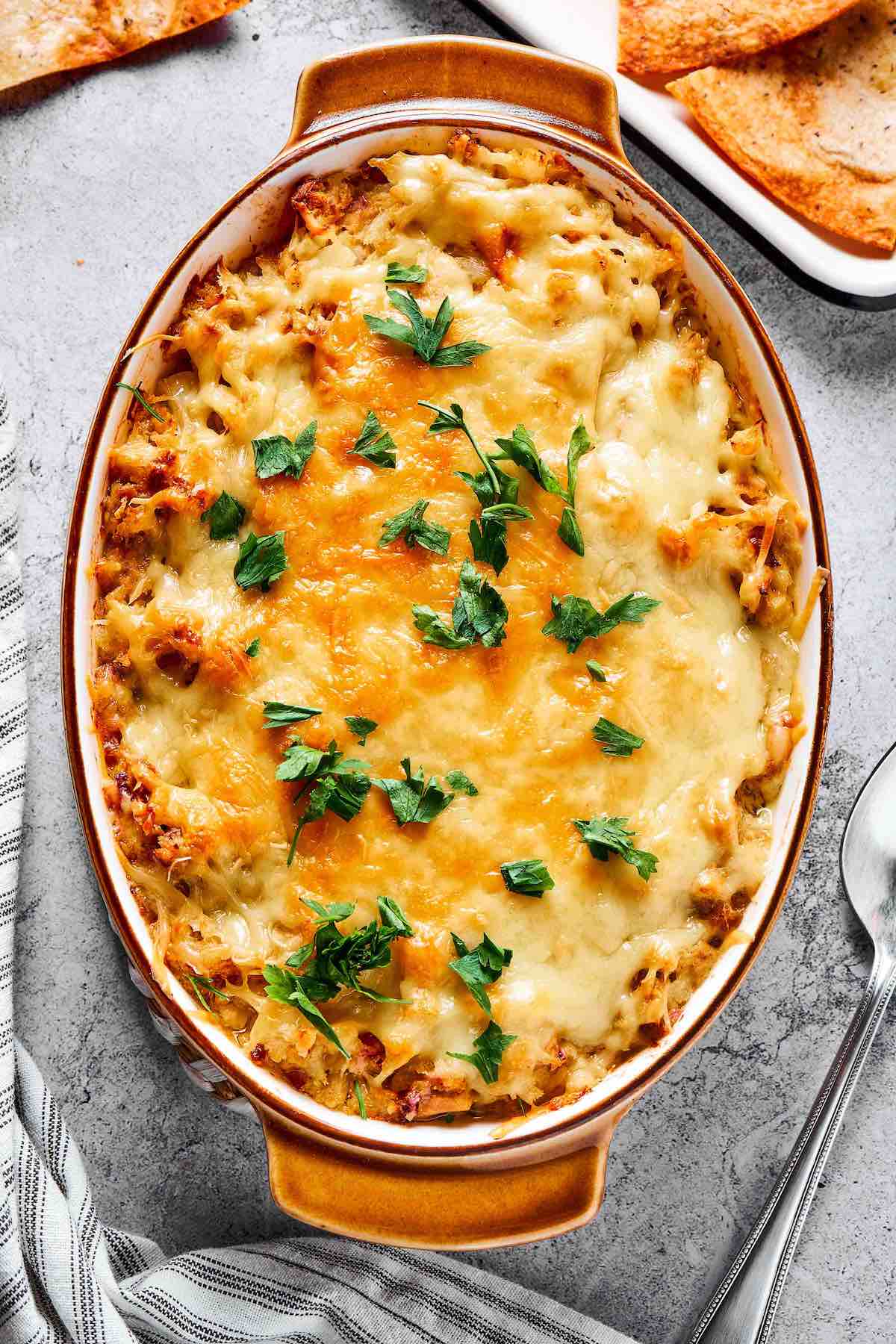 Is there anything better than a casserole for dinner? 
I think not. They are quick to assemble, and the oven takes care of all the hard work. Not only that, but they are affordable too. We make them at least once a week, and a recent favorite has been this tuna casserole. 
Why you'll love this recipe
Takes canned tuna to the next level. It's not always easy to make canned tuna taste like something truly delicious. Similar to our tuna patties, this one will be a family favorite. 
Easy and quick. As the key ingredient in this casserole recipe is tuna, it takes only a few minutes to prep it and around 15 minutes to bake.

 

The perfect freezer meal. You can mix all ingredients in advance, transfer the mixture into a freezer-safe baking dish and freeze until you are ready to whip it up.
No noodles. Most tuna casserole recipe call for noodles or pasta but not this one! It makes a fabulous low carb dinner idea. 
Ingredients needed
This recipe is very cost effective and simple and uses pantry staple ingredients. Here is what you'll need: 
Tuna. Use canned tuna in water for a light and flaky texture.

 

Mayonnaise and sour cream. These two condiments taste so much better when mixed together. Use both to provide extra creaminess for this canned tuna bake.

 

Cauliflower. Adds some bulk and nutrients to the dish. This is completely optional, and you can omit if you like. 
Onion. Use finely chopped green onions for a refreshing and mild onion flavor.

 

Mustard. Go with Dijon mustard for a tangy and slightly spicy flavor.

 

Cheese. I use mozzarella cheese in the tuna mixture and use gruyere to top off the casserole.

 

Spices. Pepper and smoked paprika used in the right amounts don't overshadow the mild flavor of canned tuna.

 
How to make an easy tuna casserole
This tuna casserole is the easiest thing to make. Here's how you do it. 
Step 1- Prepare the tuna mixture
Open a can of tuna and drain it. Flake the tuna and add it to a mixing bowl, along with the cooked cauliflower. Next, add the mayonnaise, sour cream, chopped green onion, and Dijon mustard. Add pepper and smoked paprika and salt to taste. Mix until fully combined. When all ingredients are mixed, fold in the shredded mozzarella cheese.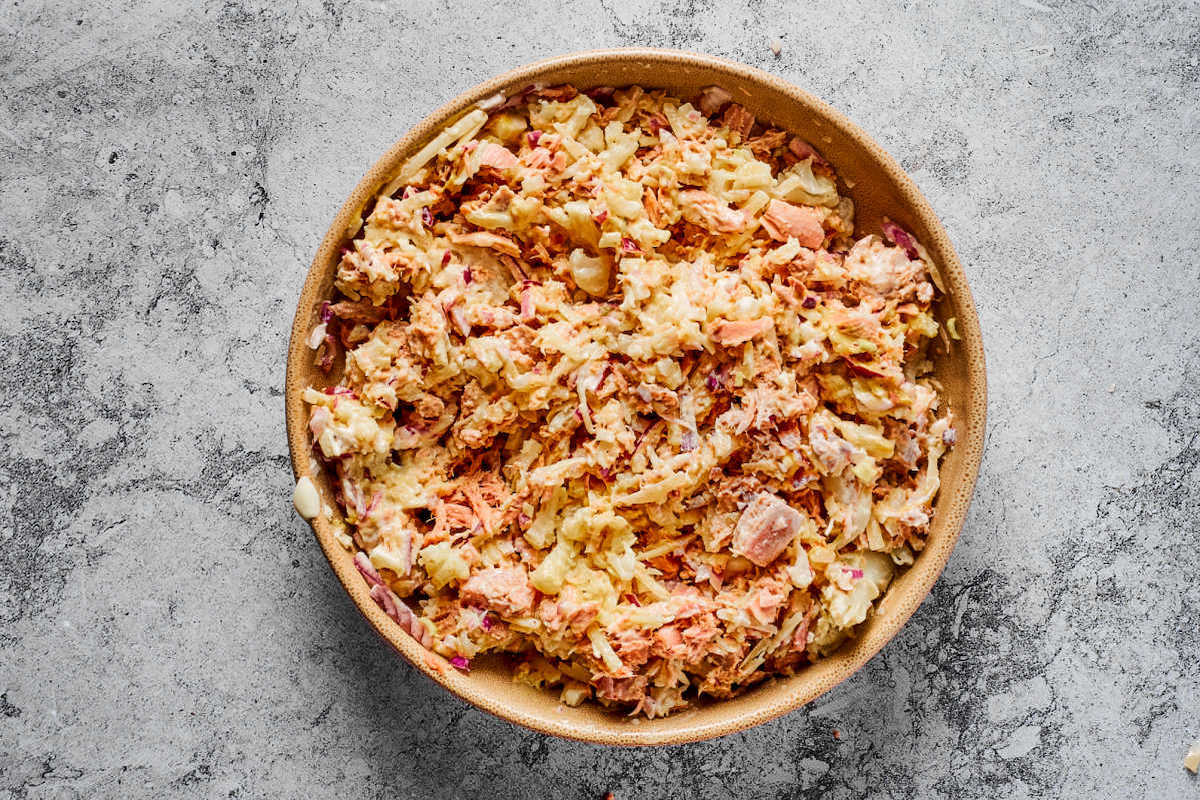 Step 2- Bake
Transfer the tuna mixture into the baking dish and top with sliced or shredded gruyere cheese.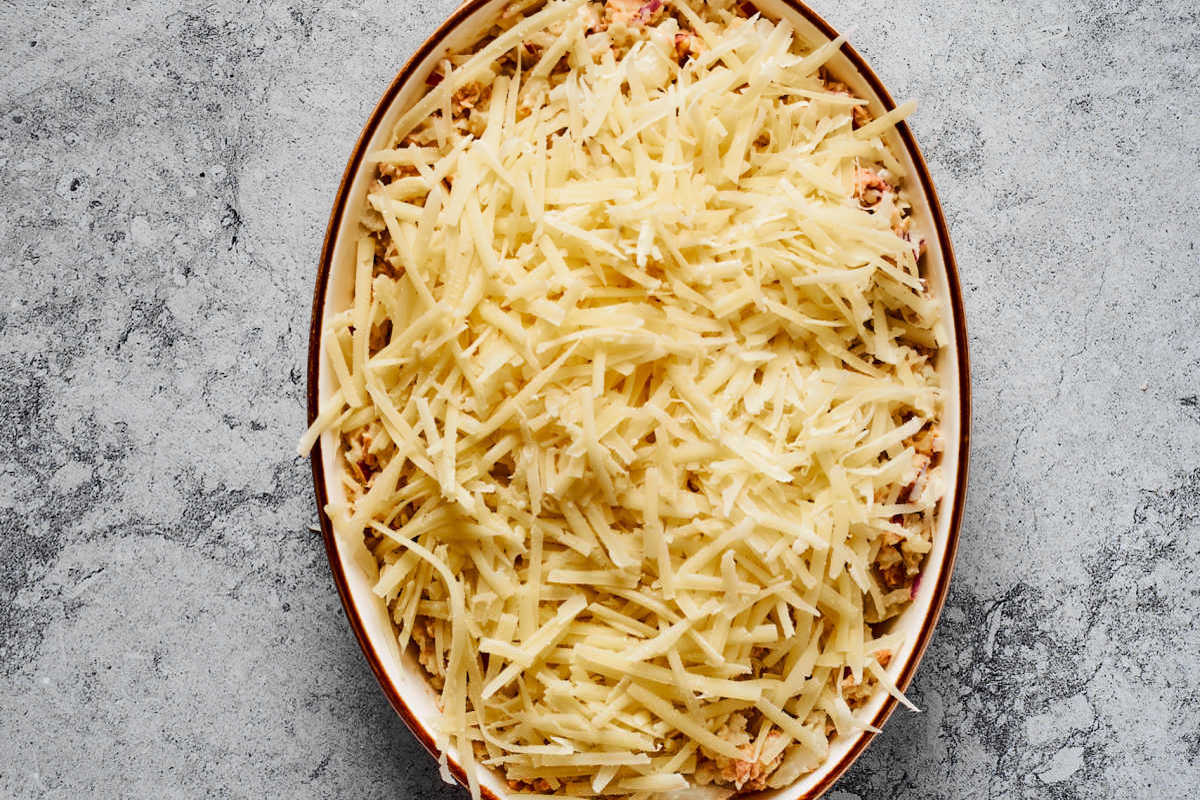 Bake for 15-20 minutes or until the cheese is melted and golden brown. Remove from the oven and serve warm.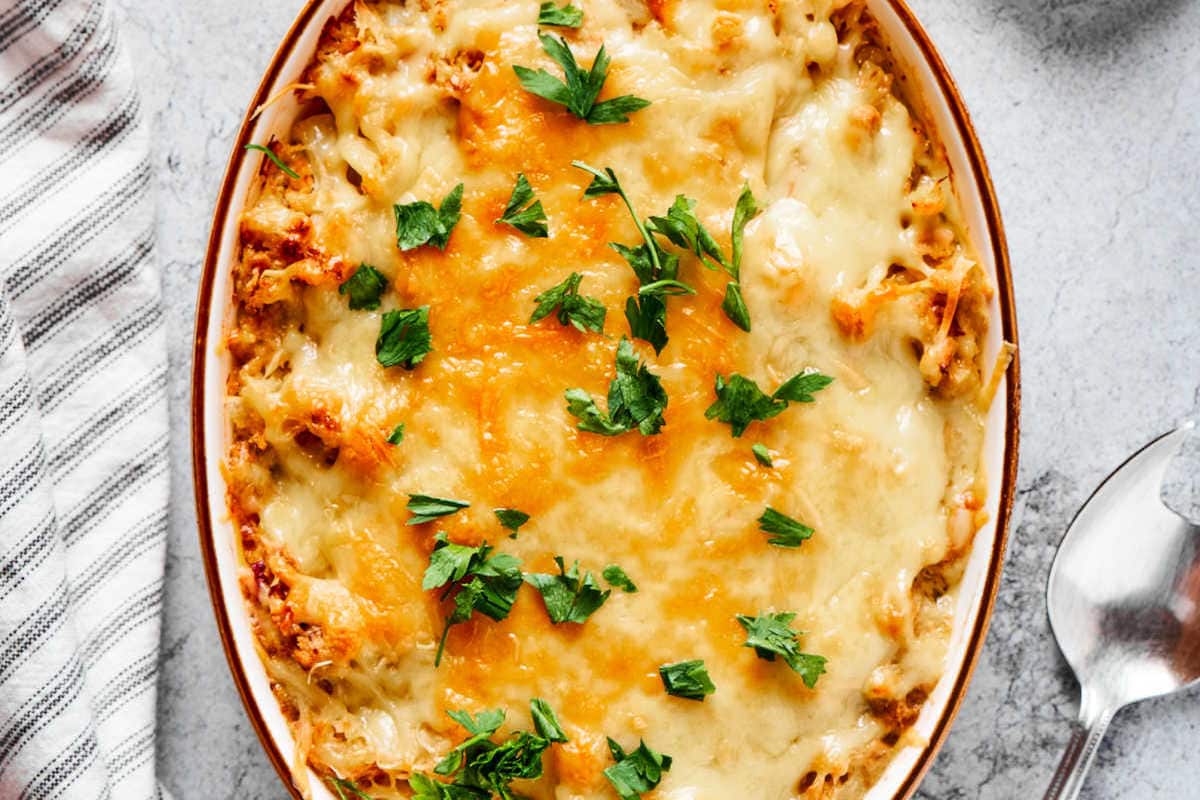 Tips to make the best recipe
Flake the tuna into larger chunks. If you flake it into very small pieces, the tuna mixture will turn into mush when you mix the canned fish with the rest of the ingredients.

 

Sprinkle the casserole with a breadcrumb and butter mixture for a golden and crispy crust that will contrast beautifully with the creamy tuna mixture.

 

Use a combination of different cheeses to make this tuna bake taste even better. Smoked cheddar, gouda, Asiago, and Monterey Jack will work well for this recipe.

 

Add mild heat to this tuna casserole by using pickled or fresh jalapenos.

 
Flavor variations
The beauty of this casserole is just how easy it is to customize with other ingredients and flavors. Here are some ideas: 
Add pasta. This tuna casserole doesn't contain any noodles. You can add your favorite type of pasta to it to turn this bake into a complete dinner. Macaroni, penne, farfalle, and fusilli will all work well for this recipe. Cook the pasta al dente before mixing it with tuna.

 

Add vegetables. You can definitely sneak some vegetables into this casserole. You can use mushrooms, peas, diced celery, and bell peppers.

 

Use canned corn. Adding a can of corn into the casserole mix doesn't require extra time and effort. Despite that, it adds flavor and color to the tuna bake.

 
Storage instructions
To store. Place leftovers in an airtight container in the fridge and it will be good for up to 4 days.

 

To freeze. Once the casserole has cooled, place portions of it in a shallow container and store it in the freezer for up to 6 months.
To reheat. The best way to reheat tuna casserole is in the oven, covered with tinfoil. You can also microwave small servings of tuna casserole can be reheated in the microwave.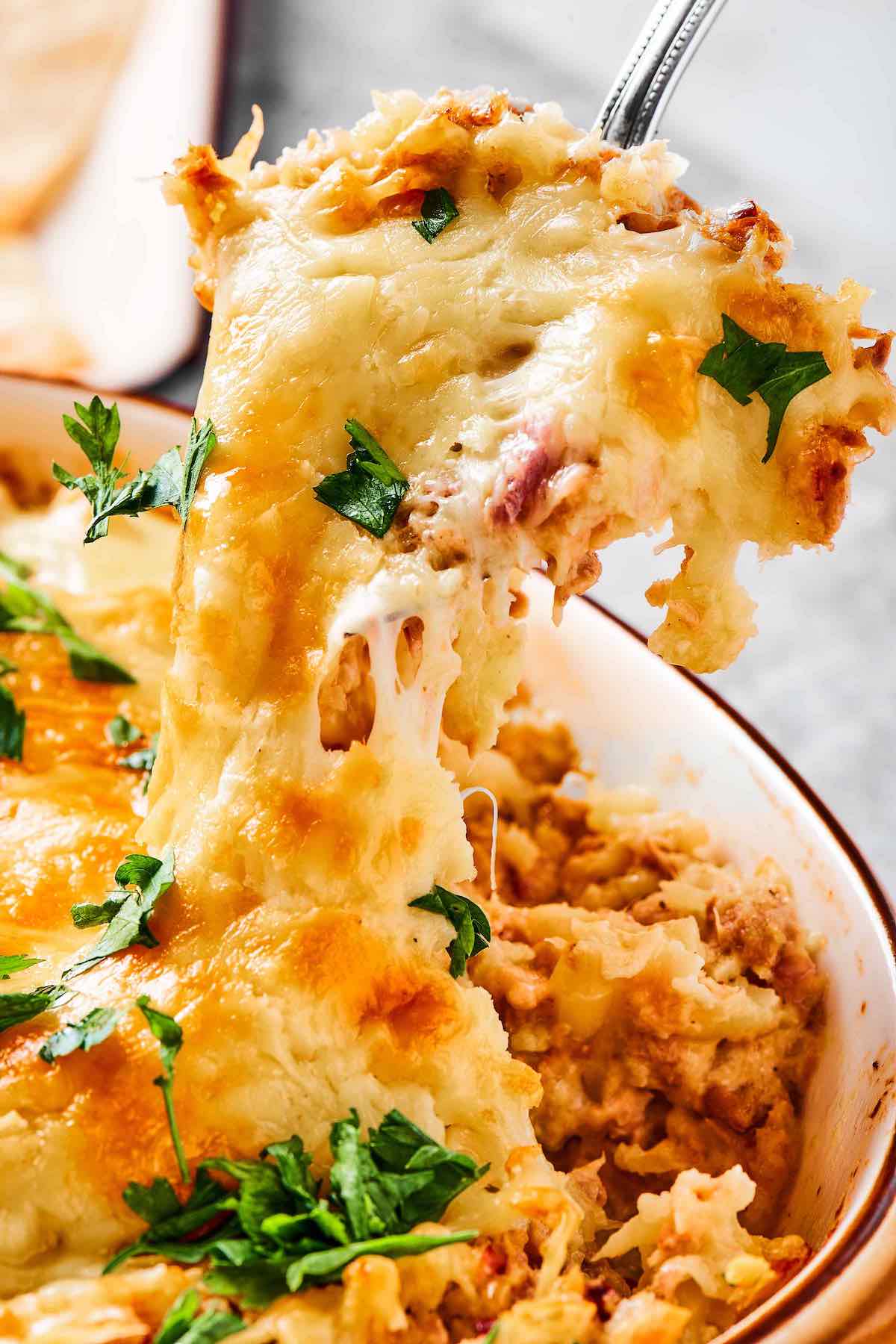 What goes with tuna casserole?
This dish pairs well with simple vegetables. If you own an air fryer, here are some favorites to try:
Frequently asked questions

 
Why is my tuna casserole dry?
The main reason why tuna casserole turns out dry is that you have left it in the oven for too long. The tuna used for the casserole is already cooked. You don't need it to leave in the oven for longer than the recipe tells you. 
Do you put eggs in tuna casserole?
Using eggs in tuna casserole is a matter of preference. You can chop a few hard-boiled eggs into the tuna mixture for added nutritional value and flavor. 
Can you add noodles?
Yes, you can add noodles to this casserole. In fact, egg noodles are one of the main ingredients of the traditional version of this popular American casserole. Cook the noodles al dente before you add them to the rest of the ingredients.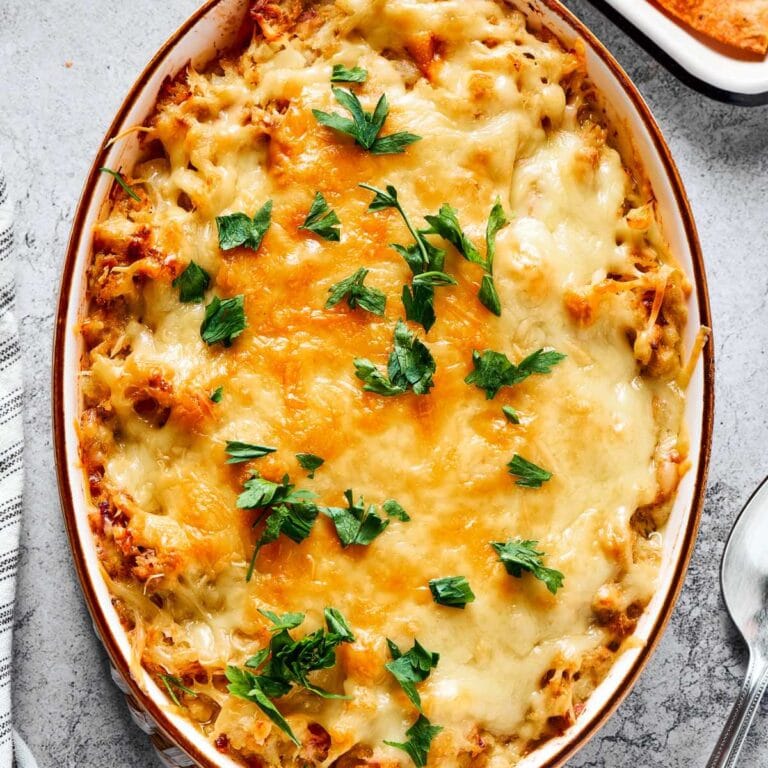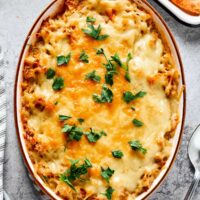 20

ounces

canned tuna

in springwater

1

cup

mayonnaise

1/3

cup

sour cream

1/2

teaspoon

salt

1/2

teaspoon

pepper

1/4

teaspoon

smoked paprika

2

tablespoons

Dijon mustard

1/2

cup

green onions

chopped

2

cups

cauliflower

cooked and chopped

1

cup

mozzarella cheese

1

cup

gruyere cheese
Preheat the oven to 180C/350F. Grease a large baking dish.

In a mixing bowl, add the drained tuna and flake it with a fork. Add the mayonnaise, sour cream, salt, pepper, smoked paprika, green onions, and Dijon mustard. Mix until smooth. Add the cauliflower then fold through the mozzarella cheese.

Transfer the mixture into the greased baking dish and top with gruyere cheese.

Bake the tuna casserole for 15-20 minutes, or until the cheese is golden brown.
TO STORE. Place leftovers in an airtight container in the fridge and it will be good for up to 4 days.

 
TO FREEZE. The fact that this tuna casserole doesn't contain noodles makes it even better for freezing. Transfer the leftover tuna bake into a freezer-safe airtight container and freeze for up to 3 months.

 
TO REHEAT. The best way to reheat tuna casserole is in the oven, covered with tinfoil. Small servings of tuna casserole can be reheated in the microwave.

 
Serving: 1serving | Calories: 379kcal | Carbohydrates: 4g | Protein: 22g | Fat: 22g | Sodium: 708mg | Potassium: 324mg | Fiber: 1g | Vitamin A: 286IU | Vitamin C: 18mg | Calcium: 50mg | Iron: 2mg | NET CARBS: 3g